Playground Review: Park Road Park
Kids can play with a big yellow caterpillar or twisty monkey bar configuration.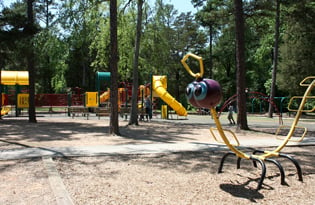 Park Road Park
6220 Park Road
Play at Park Road Park
The main attraction at this playground is the big yellow caterpillar. A twisty monkey bar configuration with antennas lures children to climb from one end to the other. The mulch-covered playground is large and has multiple play sets that suit a mix of ages. The bigger play set has connecting bridges, twisty slides, and monkey bars for climbing, swinging and jumping. The smaller tot play set has smaller slides for the smaller children. There are three different swing sets with baby swings. Picnic tables are scattered around the playground, which makes it a perfect location for a midday picnic and play date. Located off Fairview Road, the 72-acre park also has a small lake, tennis and basketball courts, and sports fields.
The Scoop
Bathrooms: No
Baby Swings: Yes
Shade: Some
Parking: Yes
Picnic shelters: Yes
Stroller-friendly: Yes