Playground Review: Midwood Park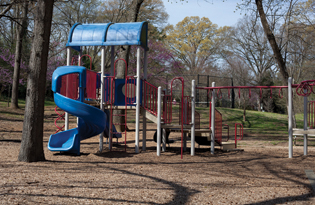 Midwood Park, situated in Plaza Midwood, is a hit for preschoolers. It has a smaller play set with two slides, a tunnel and ladder for the little ones; and a larger play set with a bigger slide and a twisty slide, as well as climbing ladders and monkey bars, for bigger kids. There also are swings, including baby swings, a fun car that rocks and a purple kid-size dinosaur that kids can ride. Adjacent to the playground are tennis and basketball courts, as well as a picnic shelter with multiple tables. Location: Plaza Midwood, 2100 Wilhelmina Ave.
The Scoop
• Bathrooms: Yes.
• Baby swings: Yes.
• Shade: Yes.
• Parking: A lot located off Winter Street with a short walk to the playground.
• Stroller-friendly: Yes.
• Picnic shelter: Yes.