Playground Review: Latta Park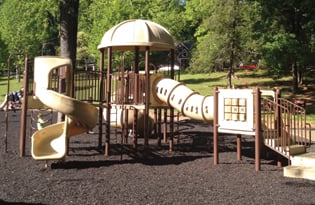 Latta Park, nestled in the heart of Dilworth, is a great park for kids of all ages. The playground offers one large play set with monkey bars and curvy slides for bigger kids, and then a smaller play set with slides and a swinging bridge for toddlers and preschoolers, plus a swing set with baby swings and two other fun slides. The ground is covered with rubber mulch – a good thing for little ones just getting their balance. On a hot summer day, enjoy the spray ground adjacent to the playground. There also are basketball and volleyball courts, plus a nice shaded trail for walking and pushing a stroller.
Location: Dilworth, 601 E. Park Ave.
The Scoop
• Bathrooms: Yes.
• Baby swings: Yes.
• Shade: Yes.
• Parking: On the street with a short walk to the playground.
• Stroller-friendly: Yes.
• Picnic shelter: Yes.