Plan the Perfect Spring Family Picnic
Best spots, gear and tips for making your next outdoor picnic a success.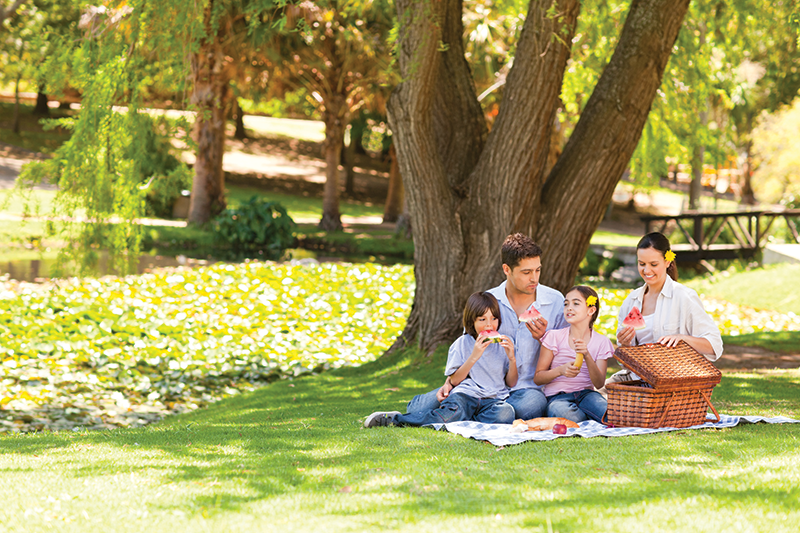 Jewel tones and heavy layers make way for pastels, open-toe shoes and fragrant, longer days during spring. The grass needs cutting, gorgeous bushes bloom and allergies to nature's own brand of confetti — in the form of pollen — kick into overdrive. Yes, spring in North Carolina is magical — so much so that it can inspire some extra-special adventures with your family in the great outdoors.
Nothing says "spring" or "quality time" quite as well as a meal shared in the form of a neatly packed picnic. Or, it could be a disheveled one. The point is to spend this time in nature with loved ones.
Picnic-Perfect Recipes
Yvonne Madden of Charlotte is stepmom to Ivy, an aspiring young chef. Madden and her stepdaughter use any opportunity they can to spend time together in the kitchen. Madden's Vietnamese heritage drives her love of delicious, fresh foods, so her suggestions for picnic goodies do not disappoint.
If you're picnicking in an area where a grill is available, Madden suggests considering burgers for your main course.
"Ivy loves making patties with me. You can have most school-age kiddos mix the ground beef and form them into patties," she says. "In fact, any ground meat or meat substitute works wonderfully for this. You can also buy premade patties from any of our fresh, local grocers."
Madden also raves about the availability of fresh fruits and vegetables in the Queen City and Triangle region. "We're really lucky to live in a climate where we can access most anything any time of the year," she says.
A true hallmark of North Carolina is that fresh produce is often locally sourced, making it more economical.
"Pre-slice everything and toss them into some Ziploc baggies for easy snacking," Madden advises. "Bonus: Kids can help bag up the veggies and fruits."
Though some fan-favorite recipes call for it, mayonnaise is not the most picnic-friendly of foods since it can spoil if not refrigerated. Madden's suggestion: Replace it with pesto in salads. One of her favorite recipes involves slicing up a handful of cherry tomatoes and adding in some mozzarella pearls, fresh basil, pesto, olive oil, and salt and pepper. Madden says this dish offers the perfect accompaniment to crusty bread, can be eaten alone or be made into a sandwich.
Another tasty traveling recipe is bowtie pesto pasta salad. Just toss boiled bowties with pesto, then add some salt, pepper and Parmesan cheese.
For a sweet but healthy treat, scoop out the centers of large strawberries and fill them with melted chocolate chips using a small spoon or piping bag, then store them in the refrigerator for 10 minutes or so until the chocolate hardens. Use an egg carton to prevent the strawberries from tipping over.
Prepackaged Goodies
If you'd rather spend less time preparing for and more time enjoying your spring family picnic, consider purchasing seasonal, prepackaged foods.
"Not only do you get to enjoy the fruits (and veggies) of someone else's labor, but you're actually able to be present in the moment with your kiddos, saving time and potential frustration when things don't go according to the plan," says Durham-based nanny Krysta S.
Suggestions include nongreasy chips that don't leave a residue, and prepackaged salads, fruits and veggies. Add some precooked grilled chicken strips and you've got this picnic "in the bag."
Top Picnic Spots
North Carolina offers perfectly picturesque picnic locations come spring — whether you're at William B. Umstead State Park for a piece of outdoor sanctuary in Raleigh or Jetton Park hitting up a little slice of a beach at Lake Norman.
Other honorable mentions for Triangle families include Sarah P. Duke Gardens in Durham, Pullen Park in Raleigh and Ayr Mount in Hillsborough.
The Charlotte area offers perfectly picturesque picnic locations come spring — whether you're at Daniel Stowe Botanical Garden or Freedom Park. Other honorable mentions include Latta Park in Dilworth, and Romare Bearden Park or First Ward Park uptown. Independence Park is great for its view of uptown and playground, and you can picnic by the playground at Colonel Francis Beatty Park which also has bike trails by the lake.
---
Hassle-Free Accessories
Pack the right accessories to achieve picnic perfection. Here are a few good ideas to consider.

Camco's Handy Mat With Strap folds out to 60-inches by 78-inches and into a compact 10.5-inches by 15-inches for storage. (A 72-inch by 108-inch mat is also available). Built-in handles assist with easy transport, and the mat also features convenient pockets and mildew-resistant material that can be cleaned with soap and water. camco.net and amazon.com, $7.64-$19.43.

REI's Sea to Summit Alpha Utensil Set
This fork-spoon-knife combination is made from aircraft-grade aluminum alloy for increased durability and weighs only 1.3 ounces. The product includes a small accessory carabiner so you can clip all three utensils together. rei.com, $19.95.
Scuddles Cooler Picnic Basket
This modern take on the nostalgic wicker basket features strong leather straps and keeps food hot or cold for 12 hours. The cooler includes a set of four stainless steel spoons, forks and knives; four plastic wine glasses; four washable napkins; salt-and-pepper shakers and a bottle opener. scuddlesusa.com, $35.99. (Scuddles also offers a picnic backback for $49.99.)
Extra tip: If you're planning to be out for a while before eating, partially freeze water bottles to surround your food in the cooler. Not only do frozen water bottles do a fantastic job of keeping your goodies cold, they also come in handy once the ice melts. Use your own reusable water bottles to score extra eco-friendly points.
---
Lauren Ramirez of Lexington is a new mom, former teacher and higher education professional.