Plan a Family Getaway to Gatlinburg
From nature to nostalgia, Gatlinburg has a lot to offer families.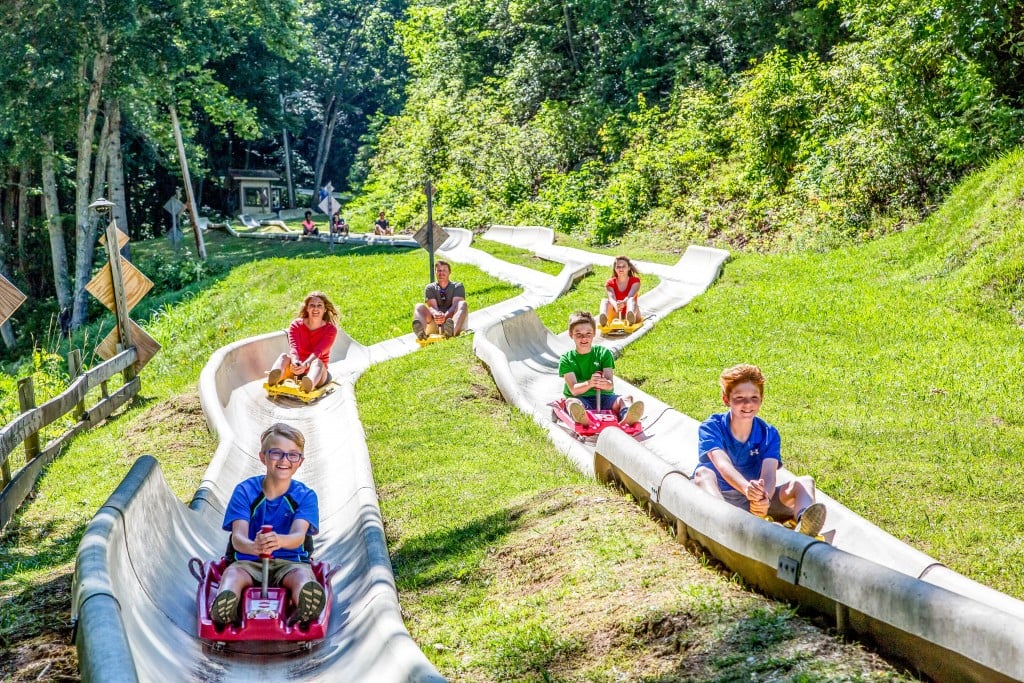 Gatlinburg, Tennessee is a small mountain town nestled in the Smoky Mountains and just on the edge of the entrance to Smoky Mountains National Park, but it's full of energy with its museums, candy shops, chair lifts, mountain rollercoasters and history.
The drive from Charlotte is just under four hours with the last hour taking you through the Smoky Mountains which makes it a scenic adventure as well. Here are highlights of a long weekend spent in Gatlinburg that provided lots of smiles and memories.
Ober Gatlinburg is an amusement park and ski area that also offers fun throughout the year. From the central station on the main street of Gatlinburg, the aerial tramway takes guests 11,088 feet or 2.1 miles over the mountains to Ober Gatlinburg. Views are stunning and the ride is slow and steady, but exciting simply for its high-rise above the tree-covered mountains. The new tram cars and carrier arms are made of a high-grade aluminum alloy, the same used in the aerospace industry, so safety is a priority.
Once you arrive, it feels like you are stepping back in time to a 1980s ski lodge. The lodge has indoor ice-skating, but more exciting are the ice bumper cars that spin, slide and twist around on the ice rink. All ages can enjoy this, including little ones who can ride with an adult. Expect lots of giggles while spinning, sliding and bumping around.
A must-do is the Mountain Coaster. The ride begins with a 1,000-foot, tree-covered ascent to the top of the coaster. Once at the top, riders are in control of their own speed for the next 2,750 feet of turns, dips, zig-zags, corkscrews and G-force adventures. It is the ultimate family experience any age can enjoy. Riders may choose to leisurely cruise the coaster track or reach speeds up to 25 miles per hour, while hugging turns and dips down the mountain.
After the Mountain Coaster, meander over to the scenic chair lift. Take the chair lift to the midway point to then zip down the hill on the Alpine Slide. Side-by-side tracks let you race down 1,800 feet in a sled-like cart that has a push/pull lever so you control your speed.
Ober Gatlinburg also has three water rides — Lightin', Blue Cyclone, and Shoot the Chute. The two boys in my crew couldn't get enough of Lightin' and Shoot the Chute, and the short lines and quick trip up the stairs to the top meant they could do it over and over again without waiting in line.
Outside the lodge you'll find water raft rides and several amusement rides, a rock-climbing wall, chair swings, mini golf and a kiddie land for younger children. Plan to spend at least four hours there to really take your time and enjoy all activities.
Pricing
Choose a basic or premium wristband depending on what you plan to do. Basic wristband, $35 for adults and $20 for children age 5-11. Premium wristband is $30 for adults and $25 for children age 5-11.
The Aerial Tramway is $14 for adults and $11.50 for children age 5-11.
The Ski Mountain Coaster is $15 per rider or $36 for three rides (same rider). One ride on the Ski Mountain Coaster is included in the premium wristband price.
---
The Parkway
Wandering through downtown Gatlinburg along Parkway, the main street of the town, is an adventure of oddities, trinkets, candy and nostalgia. Old motor lodges are wedged in with new hotels like the Courtyard by Marriott Downtown Gatlinburg. Peer in the window of The 'Ole Smoky Candy Kitchen to see how taffy is mixed and pulled to chewy perfection.
If you're nostalgic for an airbrush T-shirt, choices abound for getting an airbrush souvenir. In between more souvenir and trinket stores is Ripley's Believe it or Not, Ripley's Aquarium of The Smokies, Hollywood Star Cars Museum, Guinness World Records Adventure, and loads of mini golf options — things most kids love and parents enjoy in doses.
Tip: There are many choices and kids will likely want to do it all, which is sure to lead to a meltdown by day's end. Plan ahead so kids don't tire out trying to do it all.
---
For a high-top retreat from the bustle of the attractions on Parkway, purchase tickets and jump aboard the Chondola or chair lift to Anakeesta. Anakeesta sits high above Gatlinburg with 360 degree views of the Smoky Mountains and Mount LaConte. Once stepping off the Chodola or chair lift, it feels like you are entering a quaint village. The village is aptly named Firefly Village for its whimsy and magical feeling. We were there on a hot summer day, and opted to go straight for the ice cream shop before wandering around to the gem mining and the Children's Treehouse Village Playground.
The Tree Canopy Walk, a series of swinging bridges that are 40 to 60 feet above the forest floor, was the highlight of our visit at Anakeesta. While walking through the canopy, listen and watch for people flying through through the trees on the dueling ziplines. (You must be 7 years old and 70 pounds to zip, and anyone under 12 must be accompanied by an adult).
Before heading back down to town, have a bite to eat and a craft beer at the Clifftop Grill and Bar that has great views of the Smokies.
Pricing
Anakeesta admission starts at $15.99 for ages 4-11, $19.99 for ages 12-59, and $17.99 for ages 60 and older.
Duling zipline: $25.99 for ages 7-11; $29.99 for ages 12-59; $27.99 for ages 60 and older.
---
Smoky Mountains National Park
Don't miss the opportunity to drive into Smoky Mountains National Park while you are in Gatlinburg. There's no entry fee, and the scenery is spectacular anytime of year.
The Sugarlands Visitors Center is about 1.5 miles inside the park, and includes a mini museum with information and examples of the park's flora and fauna and animals. You can take a quick walk on a trail behind the visitor's center or ask the park rangers for advice on a hike for your group. While you're there, let the kids become a Junior Ranger.
My son and I (and lots of other families) hiked the 2.6-mile (roundtrip) Laurel Falls trail to Laurel Falls. The falls were nice, and my son had a blast rock skipping on the boulders and splashing in the wading pool below the waterfall. The hike is easy, with much of it paved so some people chose to even push a stroller along the trail.
---
Where to Stay
The Courtyard Marriott Gatlinburg Downtown is located at 315 Historic Nature Trail just off Parkway. The hotel has an indoor swimming pool and a large hot tub outside. Food, snacks and beverages were readily available at the The Bistro, the hotel's onsite restaurant. It also is convenient for walking to most destinations along Parkway or for catching the trolley.
---
The Trolley
If you don't feel like walking but also don't want to deal with moving the car, The Gatlinburg Trolley makes it easy to get around town. Approximately 20 trolleys service 50 miles with more than 100 stops in the city of Gatlinburg. An all-day pass is only $2, excluding the Tan and Pink routes that run to the national park and Dollywood in Pigeon Forge.
The trolley runs 10:30 a.m. to 10 p.m., March through April; 8:30 a.m. to midnight, May through October. From November through February, hours are 10:30 a.m.-6 p.m., Sunday through Thursday and 10:30 a.m. to 10 p.m. on Friday and Saturday.
---
Depending on the length of your stay, Pigeon Forge and Dollywood are a short half-hour drive from Gatlinburg. Dollywood brings loads of thrills with its coasters and amusement rides, as well as on-stage entertainment.
Michele Huggins is the editor of Charlotte Parent magazine.