Places to Play at Lake Norman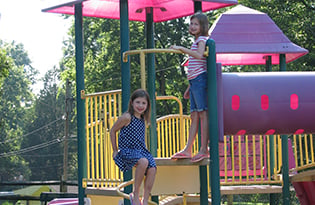 It's inevitable. Around the fourth or fifth trip to your usual playground, the kids start to complain they're bored of the same old swings and teeter-totters. How to avoid a massive meltdown and still give your wee ones the opportunity to burn off all that excess energy? Check out these three Lake Norman-area parks to vary your recreational routine.
---
1. Jetton Park
19000 Jetton Road, Cornelius
The grandaddy of all parks in the Lake Norman area, Jetton is perfect for a quick trip or the better part of a day. The playground itself is large, with equipment for all different ages. A mini-zipline and swings that lock you in like an amusement-park ride are draws for the younger set. For parents who need a break (read: all of us) there are many places to sit including benches and a gazebo. But the best thing about this playground is it has plenty of shade, so even on really hot days your kiddos (and you) can play without breaking a sweat. It's a popular spot though, and often packed, so if you're looking to avoid the crowds try it early in the morning.
The equipment is in very good condition and there's plenty of mulch to break any falls. When the kids need a change of scenery, Jetton offers something truly unique – a beach. Although you can't swim, you can get your feet wet, plus this is the perfect spot to bring sand toys and build. In addition, there are miles of beautiful shaded walking trails that offer spectacular views of Lake Norman, as well as being perfect for beginning bike-riders.
THE DETAILS
Parking: Yes
Restrooms/ Water Fountain: Yes
Shade: Yes
Stroller Friendly: Yes
Fence: No
---
2. Caldwell Green Tot Lot
320 Caldwell Lane, Davidson
Referred to simply as "The Sand Box," this little park is unique in that one large corner has been converted into a giant sand play-area. No need to bring buckets or shovels because over the years, patrons have left toys (including bikes and big wheels) at this neighborhood spot, which in many ways feels like someone's incredibly cool, oversized back yard. The lot is not a park, but a lot – completely fenced in and situated in the quiet McConnell neighborhood. It blends in with the homes around it so well, you may not even notice it.
If your kids are under six, the Sand Box is great because no matter where you sit, you can see them, plus there are picnic tables. There's a trike tunnel and asphalt path that winds around the space where kids can do laps on bikes or scooters; the rest of the area is grass. No equipment or swings here, the draw is simply that enormous sand box.
THE DETAILS
Parking: Yes
Restrooms: No
Water Fountain: Yes
Stroller Friendly: Yes
Shaded: Park-no, sandbox- yes
Fence: Yes
---
3. Ada Jenkins Athletic Field and Community Center
212 Gamble Street, Davidson
Most people know the Ada Jenkins Center because of the incredible work they do for the Lake Norman community, but there's also a small playground behind the building. With play equipment and 4 swings, the fenced-in mulched, partly-shaded enclosure is small, and not a destination park, but could definitely entertain kids in the 5-8 year range.
My recommendation? The Davidson Pizza Company, a tiny but delicious spot with only outside seating, is located just steps away. Make it a lunch outing. Grab a slice, and let the kids burn off those calories with a 20-minute romp after eating.
THE DETAILS
Parking: Yes
Restrooms: No
Water Fountain: Yes
Stroller Friendly: No
Shaded: Partly
Fence: Yes
---
Amy Salvatore Reiss is freelance writer and mother of two who lives in Davidson. The beach at Jetton Park is one of her girls' favorite places.