Pitfalls for the Entitled Teen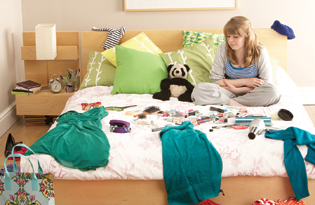 This generation of teenagers is often described as entitled and self-absorbed, and it is not difficult to see why. When raised in a culture that promotes self-focus ("me, me, me"), and with parenting grounded in the mindset that the teen must be happy all the time, no matter what, your future college student may have a difficult time establishing and exerting the self-control and discipline needed to successfully navigate through life challenges.
It is important for parents to provide their teens with early education on what to expect when they are on their own and Mom and Dad are no longer providing the world to them. Here are some conversation starters that will help you know how to frame the discussion with your teen:
You are the organizer of your life and responsibilities. You have relied on us to help you organize your daily routine, including getting to school on time, to practices and games, and then to social events while still helping you have time to juggle school assignments and part-time jobs. Now it's your turn to take full responsibility. We won't be there in your dorm, urging you to get ready so you have enough time to eat breakfast before class.
What can you do to get started? Buy a calendar that travels with you (using the one on your phone is ideal) for daily or regular appointments, and consider keeping a stationary calendar at home on your desk for other infrequent or future appointments.
Be realistic about time management. Think about how long it really takes you to get ready to leave. When you tell us "I'll be ready in five minutes!" it usually takes you another 20. When you're carving out time to study, overestimate how much you'll need. If you finish early, that's a bonus.
Map out a schedule for your week that includes daily life tasks – including sleep time, gym time and free time – and for work-related tasks, such as study time and class time.
Learn to get yourself up in the morning. If you need help figuring out a realistic time, work backward from the time you need to arrive at school to socialize (not necessarily the time classes start). It may take you 40 minutes to get ready, 10 minutes to travel to school, and 10 minutes to socialize before classes start at 7:30 a.m. So you need to set your alarm for at least an hour prior to the start of class.
Be your own advocate. You've sometimes relied on us to speak to your teachers or coaches on your behalf when negotiating for extra time or accommodations. You need to learn to speak up for yourself. We can practice this together so you're ready. And we want you to come to our next parent-teacher conferences.
Learn basic life skills now from the comfort of your own home. Starting now, you're going to learn how to do laundry, some basic cooking, cleaning and managing money. Let's map out a schedule together for when you'll do your laundry and when you'll take a turn shopping for and preparing dinner. And let's map out a budget for you to manage your spending money.
Finally, as parents, you should prepare to be disappointed; it's unavoidable. Your teenager may feel or perceive that life should go exactly according to their plans, when the truth is there are limited things we're all able to control. Disappointment is not necessarily a bad thing; in fact, it provides teens with a challenge to learn from and prepare for should something similar happen in the future. To minimize disappointments, set realistic expectations and then work through pitfalls together should they happen.
Melinda Harper, Ph.D., teaches psychology at Queens University of Charlotte. Her private practice at Charlotte Psychotherapy & Consultation Group focuses on children and adolescents.
?