Pilates Power
Top 10 client quotes of the decade from Iron Butterfly Pilates.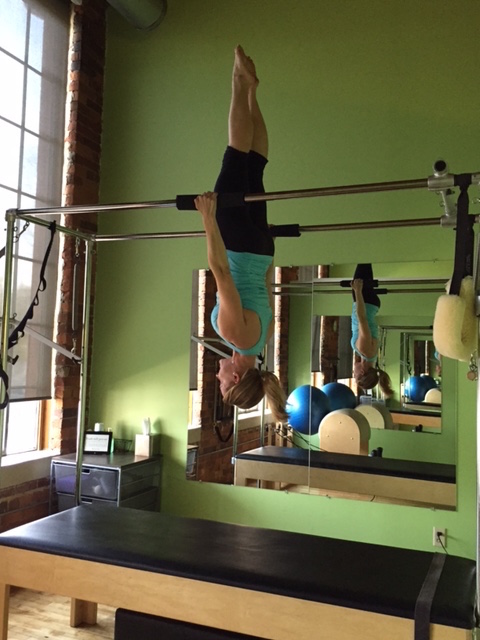 In honor of our 10 year anniversary in May, Iron Butterfly Pilates would like to share with readers our top 10 client quotes of the decade:
10. "It may not have been pretty, but I felt great doing it." – Maeghan
Pilates will look different on everyone's bodies. How you "look" doing Pilates does not matter, it's about how you feel doing it.
9. "I feel so tall!" – Vincent
Pilates will literally lengthen your muscles. You may not physically grow taller, but how you hold yourself will give you the appearance of height.
8. "That's much harder than it looks" – Gail
Pilates is a technique, not a fad. It takes time and dedication to learn proper form, and it's worth every second. When done correctly, Pilates is
hard!
7. "That hour went so fast!" – Annette
When you find a form of exercise that works, and is good for your body, the hour will fly.
6. "I am completely free of back pain." – Chris
Pilates is not a miracle cure, but it helps strengthen and lengthen every muscle of your body. With the watchful eye of an experienced trainer, you will gain core strength and flexibility in your entire body, and possibly alleviate aches and pains.
5. "Pilates helped me achieve the best triathlon time of my life." – Kelly
Swimmers, cyclists, and runners alike, have all given kudos to Pilates keeping them aligned and flexible.
4. "Wow! How many male clients does ibp have? I always thought it would be mostly women here." – Mark
Pilates was invented by a man. It is a tried and true technique with no men/women prejudice. Pilates fits everyone's body!
3. "Without Pilates I could have never accomplished my hike through Iceland." – Anne
Pilates will enhance your balance, strength, and coordination. It will help you become aware of your body and how you are moving through your environment.
2. "During my Pilates session, it's impossible for me to think of anything else but me." Patty
Pilates has a beautiful mind, body, breath focus. Our world is so rushed, what better way to spend an hour for yourself than to focus on you from the inside out.
1."My body always feels better when I walk out the door then when I walked in." Multiple Clients
Iron Butterfly's promise to each and every client is that you are valuable, special, and important, and we guarantee you will feel better after every single session with us.
Heather Obleada's passion for movement has led her through a career of dancing, choreographing and teaching. She grew up performing with The Charleston Ballet, received her B.A. in Dance from Radford University and continued her studies with The Alvin Ailey Dance Theater and Martha Graham School in New York. She taught ballet, choreographed, and developed the modern dance program with Jami Masters in Charlotte, NC and danced professionally with Brouseau Danceworks and American Dance Art. She graduated with her pilates certification from Body Awareness in Atlanta, GA and with her yoga certification from The Bodhi Tree En Yoga Teacher Training program in Charlotte. Heather's lifelong passion paved the road to Iron Butterfly Pilates, which she founded in 2005. Iron Butterfly has since dedicated itself to being a place for everyone, from professional athletes to busy moms, to find their strength from within.