Physical Therapy vs. Occupational Therapy
Local experts share how kids climb, laugh and play.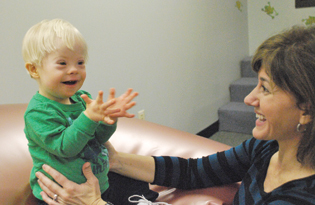 One-year-old Adam was delayed in his gross motor development and had low muscle tone, as a result. Although he was trying to crawl and was sitting for a few seconds by himself, he fell often from a lack of strength and trunk control.
Adam began seeing a physical therapist weekly through Capable Kids Home Therapy. The sessions were full of fun and laughter, as Adam and his therapist played with his favorite toys. A few months later, he was crawling everywhere and sitting up for longer periods of time. Once he began standing and trying to walk, his therapist moved the sessions to a local pool, where she worked with his to build up his strength and improve his balance. Adam loved the water, and he had much better motor control for standing and walking while in the pool.
After that, he needed the assistance of braces to stand and walk outside the water. Adam loved to stand by himself and bounce up and down to music. Shortly after he turned 2, Adam began taking steps on his own, and his therapist delighted in seeing the big smile on his face (and his family's faces) was when he was able to walk to Mom and Dad.
Children typically are referred for physical therapy from birth to age 3. Pediatric PT helps children with mobility and stability, says Kelley Johannes, a therapist with Capable Kids Home Therapy. Gross motor skills, such as sitting, crawling, standing, walking, kicking a ball and jumping, are the milestones therapists hope to help kids achieve, depending on their age and skill level. Therapists also assess kids for equipment needs, such as standers or wheelchairs, as well as orthotic needs, and they train families in using the equipment.
Occupational therapy also helps children achieve independence. In addition to fine motor skills, OT addresses visual skills, sensory processing and self-care. In OT sessions, kids practice grasping and releasing toys, as well as improving hand-eye coordination and handwriting skills. There's also bathing and dressing skills, and some therapists work with children with feeding difficulties.
"OT also can help those who have behavioral disorders learn anger-management techniques, and those with sensory and attentional issues learn improved focus and social skills," says Beth Watson, an occupational therapist with Capable Kids.
Early Intervention Helps
PT and OT therapists work with children with special needs in the hospital, at home, at daycare and school, and in private clinics.
Dana Elliot, a senior therapist at Touchstone Therapy, says beginning therapy as early as possible is the key to a child's success, although it's never too late to begin therapeutic intervention. "Depending on the diagnosis, we may see a baby for tight muscles, or we may see an 8-year-old for the first time for handwriting difficulties," she explains.
In finding a therapist who is the best fit for their child, parents must trust their instincts. "Visiting the facility will help a parent to get a 'feel' for the tone of the clinic," says Elliot, adding it's important to ask as many questions as it takes to get a good understanding of what will take place when and for how long.
Elliot says most parents wonder how their child will react and respond to therapy. "Therapists are trained to adapt their treatment styles and interactions to meet children where they are and optimize their successes during each session," she explains.
She tells the story of one 3-year-old boy at Touchstone, who was thriving with all his gross motor skills, but was delayed with his speech and social skills. He also had no interest in table-top play, which was impairing his fine motor development. The boy also was very aggressive with kids his own age, and his family. He was always jumping, running and crashing into things and, therefore, was unable to attend preschool.
Once or twice a week, a therapist worked with him using intense sensory integration therapy. "Within 6 months, he was able to be enrolled in a preschool program, became age-appropriate with his language skills, and was thriving with his fine motor and interaction skills," says Elliot. "Most important, he was able to interact successfully with his parents and sister, which allowed the family to engage in various activities at home and in the community — this significantly improved the family's quality of life."
Purposeful Play
Children learn through play, and therapists strive to make each session as fun as it can be with games, singing, and favorite toys. "Bubbles are always a favorite," says Johannes. "At Capable Kids, we set up the environment so kids are challenged, and are working toward a goal, but they are distracted through play and do not even realize we are doing therapy."
Watson adds, "Since one of the primary 'occupations' of being a kid is playing, occupational therapists use child-directed play, but we play with a purpose."
Christopher, 2-1/2, wasn't able to sit down and focus to play with a toy for longer than a few seconds when he first started therapy. He didn't make eye contact with others. After starting OT, Christopher was calmer, more focused and able to sit and attend to a task for much longer periods. His mom learned how to incorporate sensory activities throughout his day, and within weeks, his eye contact improved. The toddler not only began to use a few words and signs to communicate, but he also began to play more appropriately with his toys and interact more with his older brother.