Personal Space Etiquette – Adults Can Learn From Joe Biden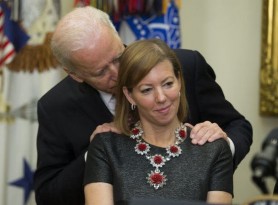 What is "Personal Space Etiquette" you ask? Well, the short answer is you know it when you see someone mess up!
According to Geoff Herbert at Syracuse.com, "Vice President Joe Biden got a little too close for some social media users' comfort at the swearing in ceremony for incoming Defense Secretary Ash Carter on Tuesday.

Biden appeared to get handsy with Carter's wife Stephanie during the event for President Barack Obama's fourth secretary of defense. Cameras caught the Syracuse University alumnus holding her shoulders for an extended amount of time in the Roosevelt Room of the White House, whispering in her ear."

The video and his actions are making national headlines, but we can learn from his mistake. Below are some tips for us to avoid these awkward moments and to be mindful of personal space etiquette.

Tips for Personal Space Etiquette:

1. Men, especially in business, should not touch a woman other than to shake her hand. If they know each other well and it's a more informal atmosphere, then a hug or other small tactile gesture is acceptable.

2. Women should also not touch men other than to shake hands or give a hug. Doing so can seem flirtatious and too forward.

3. Do not stand too close to others when talking. Keep a distance of a few feet when talking to someone else so that you each have your personal space. When visiting other countries this "rule" differs depending on the country.

4. Adults should not touch kids whom they don't know. Even though there is no bad intent, it sends the wrong message to kids and it makes their parents uncomfortable.
For more videos and tips on manners go to FinesseWorldwide.com.