People Who Care: 5 Charlotte Parents That Stand Out
These locals are known their hard work and commitment to local kids and families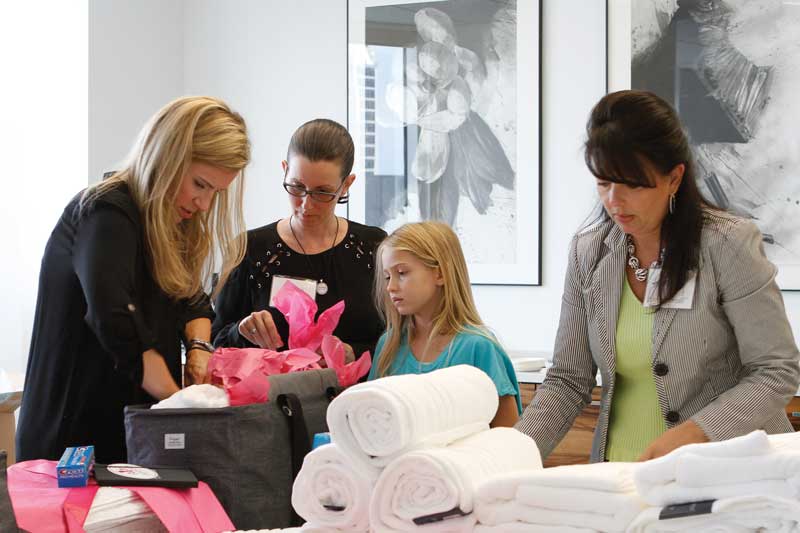 With countless nonprofits and organizations committed to doing good, there's no doubt that Charlotte is a caring community. From supporting families whose children have been diagnosed with cancer to reducing food waste to feed the hungry in our community — and much more — these five parents stand out for their hard work and commitment to the kids and families they benefit. These are people who care.
---
In 2011, Emily Ratliff and her husband Kevin Ratliff learned that their daughter Claire had been diagnosed with Stage 4 neuroblastoma cancer. Their friends, family, and an army of supporters rallied around them, providing food, hugs — and lots of help. In 2012, Claire passed away, but her army marches on. Over 200 children are diagnosed with cancer every year in the Charlotte area, and whenever that tough news hits, Claire's Army steps in.
"We realized that everyone didn't have this level of support, and that what we had was quite an anomaly," Emily Ratliff says. "We want to do the things that people did for us."
Basic things, like drinking coffee out of a mug rather than a Styrofoam cup, or having a hot meal when she couldn't be home to cook, helped Ratliff feel more human and gave her family more time with their daughter. That's where the idea of Claire Packages started. Through the program, families at both Hemby and Levine children's hospitals receive a utility tote filled with bath towels, dryer sheets, dish soap, gift cards, journals — things that are inaccessible at a hospital that make hard times a little more bearable.
Meals help, too. Since 2014, they've delivered close to 5,000 meals to families in hospitals. Since 40 percent of families with these diagnoses deplete their savings within the first two years of treatment, money also helps. Through donations and funds raised through galas and pancake breakfasts, Claire's Army also provides mortgage support, gas cards for those with long commutes, and other financial assistance.
"We want to do something helpful and keep stress levels as low as possible," Ratliff says. For more information, visit clairesarmy.org.
---
In 2012, Carolina Panthers tight end Greg Olsen and his wife Kara got some good news: They were going to be parents — of twins. Then came the news that would change their lives forever. One of the babies had a congenital heart defect. Along with the Levine Children's Hospital, the couple established the HEARTest Yard, a program that supports families, like their own, affected when their child has a congenital heart disease. By providing in-home care, physical and speech therapy, and more — free of charge — the program allows families to adapt to their new ways of life with a little more ease.
"In our latest endeavor under The HEARTest Yard program, we're ecstatic to bring a state-of-the-art cardiac neurodevelopmental center to Levine Children's Hospital," Olsen says. "This … kid-friendly clinic will house a full gamut of medical services for pediatric cardiology patients. We're honored and proud to bring this next-generation health care concept to the southeast region." For more information, visit receptionsforresearch.org/the-heartest-yard.
---
Kim Aprill is a food rescuer. One of three local leaders of the Charlotte chapter of Food Connection, Aprill teamed up with Mendy Godman and Sue Hawes in January 2019 and, since then, has saved roughly 8,000 pounds of food, delivering it to those who need it most.
A staggering amount of food — over 40 percent globally — goes to waste, according to Feeding America. Food Connection, which also has locations in Asheville and Black Mountain, wants that to stop.
"One goal is to get healthier food to food insecure people," Aprill says. Most food donations come in the form of canned goods or bulk fast food, she says, but Food Connection focuses on saving wholesome food that already exists, and feeding those who need it.
The organization works with food donors like Belmont Abbey College, Queens University of Charlotte and Roots Catering to collect fresh, unserved, surplus meals that are delivered to shelters, housing and domestic violence facilities, and homes for children.
Equally important to rescuing food is the education she can give her kids, ages 11 and 13.
"We want to involve them … so they know that they have the food they need," Aprill says. "Not everyone is as fortunate."
Find more at food-connection.org/charlotte.
---
When JD Ross's son Lawson started taking Tae Kwon Do, he thought it looked fun, so they started doing it together. Today he runs a consulting business and teaches Tae Kwon Do, including a program created for children with special needs. Operating from the Champion facility in Baxter Village in Fort Mill, South Carolina, the Circle of the Panda meets on Saturdays and welcomes children with a wide array of special needs. It all began when a mother came in one day and asked him if he had any classes for kids with special needs.
"We told her, no, we didn't, and within 30 minutes, another parent came in and asked the same question," he says. The next day, a third parent asked. Realizing the need, Ross says, "I told my son, 'That's it.' I get a lump in my throat talking about it."
Today he and other Tae Kwon Do students work with up to six children with special needs. Students learn from peers — teenagers with black belts — the key lessons of marital arts: courtesy, integrity, perseverance, self-control and an indomitable spirit.
"This is on Saturday mornings at 9 a.m." Ross says. One of the students doing the teaching is his son, Lawson, now 15. "Its built relationships like I've never seen."
In the future, Ross plans to kick start a holistic martial arts program that includes meditation, yoga, fitness and martial arts for kids without and with special needs.
"Ninety percent of this is about love," he says. "I hope we alter the way the world looks at the special-needs community."
Learn more on the group's Facebook page at facebook.com/circleofthepanda.
---
What started as an after-school hangout with five kids in fifth grade has grown into Boys to Men, a mentoring program that has provided a safe, trusting environment to roughly 1,500 Charlotte-area boys and young men for more than 10 years.
"I'm the oldest of seven, so mentoring has always been a part of my life," says founder Timothy Fowler.
Today Boys to Men works with over 100 boys and young men ages 9 to 17. Through after-school tutoring, community service, and lessons in self-respect, anger management, life and job skills, the program helps participants feel more supported in managing their daily challenges. Apprenticeships range from work at car dealerships — Hendricks is a key partner — to restaurants and investment companies. They do community work as well. Every third Saturday, the group meets at a senior center to play bingo, sing songs or read scripture. Every boy who has participated has graduated high school.
Fowler also emphasizes the parent's role, noting that 95% of the program's participants live in a single-parent household. He offers parent workshops to help parents learn how to save and invest money, build a resume, and anything else that may help along the way.
"Parents are the voice of Boys to Men, we don't do any marketing — all of the kids come in by word of mouth."
Find more at btmfoundation.org.
Virginia Brown is native Charlottean and freelance journalist, writer, and editor who loves sharing stories. Her work appears in Departures, AAA GO magazine, BBC News Magazine, Charlotte magazine, among others. Reach out to her at vbwrites.com.