Parents' Choice: Fave Holiday Books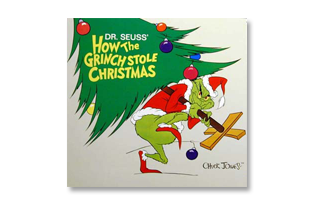 We asked local parents to share their family's favorite Holiday books. Read on to see what books their kids are enjoying this holiday sesaon.
The Grinch That Stole Christmas! It was my favorite as a child and my 3 yo has fallen for it as well. Doesn't matter what time of the year it is, she'll grab one of our Grinch stuffed toys and the book for a quick read. (Although I'm happy anytime she wants to read!)
Tracey
We love to read The Polar Express together. It reminds you of the magic of Christmas and believing in that magic. Now my seven year old can read it to me and I love to hear her do so.
Rita Wilkinson
Twas the Night Before Christmas. It is a recordable book done by my son's grandma. She lives in Iowa so it is a great way to bring her closer during the holidays.
Tara Christensen
Our little one loves Elmo's Dreidel which features the story of Hanukkah and of course, Elmo!
Danielle S.
Polar Express! We read the book then watch the movie and try to pick out the similarities and differences between the two.
Debbie B.
We like Merry Christmas Stinky Face, and Diego Saves Christmas. 
Alyssa
My girls love all books related to Christmas, but the one that gets read over and over is "Frosty the Snowman" with a recording of my parents reading it.
Kitara B.
We love Llama Llama Holiday Drama and Shhh, Santa is Sleeping.
Anelena C.
A Wish to be a Christmas Tree. love it, I think it is so sweet!
Amanda F.
Our favorite holiday book is a collection of traditional Christmas Carols. We seek three each night throughout the Christmas season.
Elizabeth
Right now, because my son is only a year old , we like reading the board book "Snowmen at Christmas". He likes all the colors and biting the book where I like the fact there is an actual story to read him!
Gretchen Quick
Related Links:


11 Ways Local Kids Made Their Parents Smile


Local Parents Share Their Favorite Holiday Traditions


15 Fun Elf on the Shelf Ideas