Parental Homework Help: How Much is Too Much?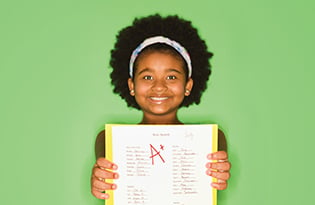 Teachers, you may have seen it. Parents, you may have done it. It could be a math paper pockmarked with erasures and reprinted. Or it could be a science project where everything is centered neatly with too much information, but the child is unable to answer questions about its substance.
It's called helping your children too much with their homework, or just doing their homework for them. It's a hallmark of the "helicopter parent" who hovers over a child, making sure homework or a project is perfect, and it may be doing more harm than good.
In a recent study, nearly 25,000 student surveys provided by the U.S. National Center for Education Statistics and family questionnaires from Child Development Supplement, researchers found that parental help is mostly inconsequential, but sometimes it can hurt, especially as children get older and enter middle school. Parental homework help can even have negative effects, including bringing down test scores.
How Teachers Encourage Independence
Fifth-grade teacher Kathleen Crook, who has been in the classroom for 25 years and teaches at Morgan Elementary School in Clemmons, has seen the effect of parental help firsthand, and has developed strategies to combat the tendency of parents to help too much.
"The purpose of homework is to reinforce skills that have been learned in the classroom," she says, and a child who is struggling with schoolwork can benefit from a parent offering support. She suggests a parent ask the child to tell him or her what she feels is troublesome about a subject. "If the student can talk through the problem, his or her work will get better," Crook says.
When it comes to school projects, the objective is to challenge children's thinking, and have them create something that reflects what they have learned. Crook says it's usually obvious if a parent did the project for the child.
If she sees that parents continue to be heavily involved in their child's homework or projects, Crook will deal with the student or the parents individually, saying, "I can tell that you and your parents put in a lot of time and effort. But for the next project, parents, you need to back off and let your child do more of the work."
Another strategy she uses to combat too much parental involvement is starting school projects in the classroom instead of just sending a sheet of directions home.
"For example, when we were doing a project on clouds, we set up an assembly line where the kids would pick up their construction paper, cotton balls and a glue stick, and put them in a gallon plastic bag," she said. "We give them a lot of direction before we send them home with a project."
Crook tries to lessen the stress that may be put on students and their parents by not assigning homework on the weekends. "The child needs to spend time with their family and be free of that," she says.
Susanne Reid, a second-grade teacher at Providence Day School in Charlotte, says the school works in partnership with parents and students to make sure homework (or practice time) is an extension of what is taught in the classroom. In her class, Reid says, the student starts with approximately 10 minutes of practice time with his or her parents. Reid has students keep a log to make sure they complete this practice time each evening. Reid also requires nightly reading time, "reading with and to the children," she says.
SEE ALSO: Teaching Children to Do Homework Independently
Leave Them Be
Fifi Ray of Cornelius has a sixth-grader, third-grader and 10-month-old. She says she is there for her children "to assist with questions, but I don't do their projects and homework for them. … They don't learn from me doing it," she says. "It will hurt them in the future because they won't know how to do things on their own." Ray adds that she lets her children use a computer, but sticks to websites that are used in school.
Nancemarie Brandquist of Apex says she and her husband are firm believers in letting their children do their own homework. "Giving your child support and the right guidance to complete their homework tasks is the best for them," Brandquist says. "If you do it for them, where will they be in college and the professional world?"
Her methods are borne out through her three children — a graduate of N.C. State who is an accountant, a senior at N.C. State who is an engineering major and a senior at Apex High School who plans to study criminology and forensics.
When her children were in elementary and middle school, Brandquist says, she could always tell which parents did their children's projects for them. "They were living through their children. They would brag on them all the time."
Brandquist says she thinks when parents do all their children's work for them, it makes their kids' lives harder in the long run. "The teacher might think, 'Maybe this kid belongs in a higher level class?' It puts too much pressure on the children."
But Brandquist says she has also seen the flip side of hovering parents — parents who don't support their kids' education enough. "Yes, I've seen parents who did not help their kids get the proper things for the project, supplies that they needed for the project," she says. "They let their kids slide completely. Education ends when the school day does."
SEE ALSO: Homework Brain-Builders
A Little Help, Here?
A teacher who thinks a bit of parental help with homework can be good is Robin Snow, a sixth-grade English teacher at Forsyth Country Day School in Lewisville. Snow, who has taught for 21 years, has four children — an 11th-grader, 10th-grader, seventh-grader and preschooler.
She says offering help with homework "depends on the student, which is OK."
"You have to know your child, you have to know his or her strengths and challenges," she says. "If a child has issues with organization, a mom can ask if her child has everything needed. She should know when to say 'you try it first' about a certain homework assignment."
Snow, like Crook, ensures that papers and projects get done in class, for the most part.
As far as school projects go, parents can sense when they are too much for their child. Ray says it is obvious when a parent needs to be involved in the project. "Some projects are so elaborate that my child would never be able to do them," she says.
Snow says at times she sees a difference between a student's classwork and homework. When that happens, she will ask the student to do his homework in the classroom.
Snow has noticed when some of her children's classmates' school projects are done by parents. "It is not serving the children," she says. "They are not learning the skills they should have learned going through the project."
Snow admits that she has helped her children with their homework,  "But I don't do it for them."
Anne Wooten Green is a freelance writer in Winston-Salem.
Read more:


View all articles from the 2014-15 Education Guide