Parent to Know: N.C. Sen. Jeff Jackson
The state senator talks balancing politics and family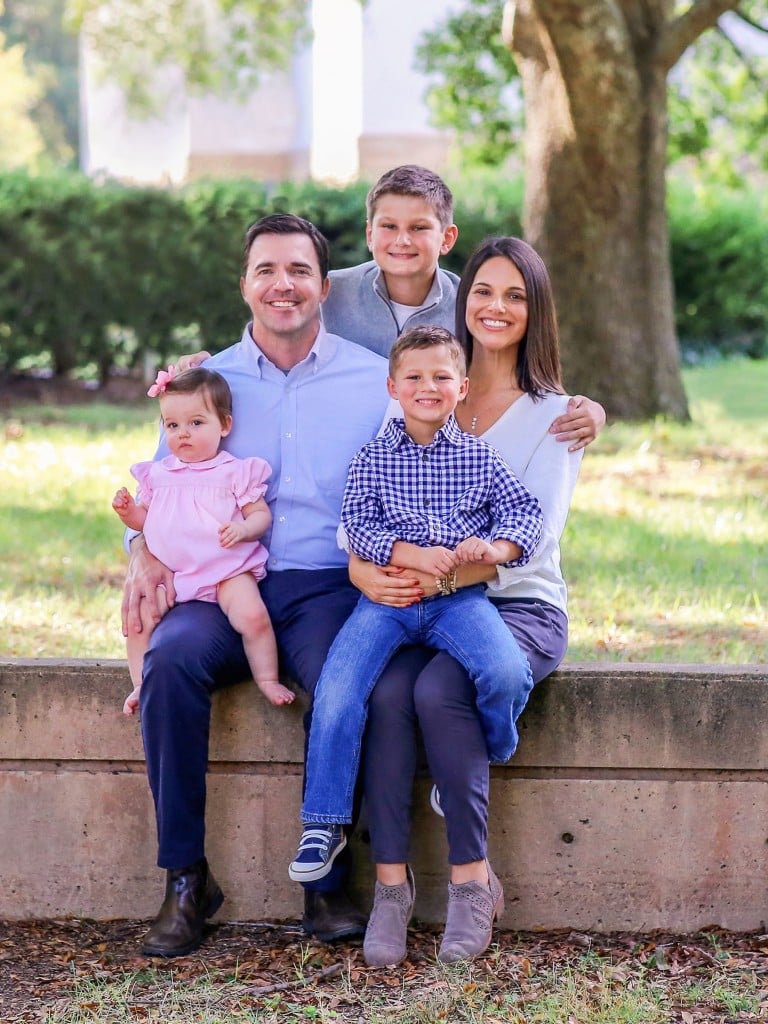 Jeff Jackson is the charismatic 38-year-old Democratic state senator who represents District 37 in the North Carolina General Assembly. In addition to running a reelection campaign and juggling three jobs, he and his wife Marisa are parents to Haden, 12, Owen, 5, and Avery, 1. We caught up with Jackson to talk about balancing politics and family, parenting during a pandemic, and his hopes for his children on the other side of this year's election.
What's the hardest part about balancing politics and family?
Knowing that you can't get everything right every day. You're going to have failures. It's inevitable. Learn from them and try harder next time.
With such a full schedule, do you ever have any free time?
My wife works fulltime, so we have three jobs and three kids. We're fully engaged all the time—it's not like Saturday is for golf. All of my free time goes to family, and even that's not enough time.
What's been your favorite part about being a parent?
Right now it's seeing Avery at the end of the day when she yells "Daddy!" and runs up to give me a hug. That's not the best part of being a parent—that's the best part of my whole life right now.
What's been the most challenging part­­, particularly during this quarantine?
Avery has spent 25 percent of her life in quarantine now. So giving a sense of normalcy and seeing the world beyond our house has been a constant challenge. We take nightly walks around the neighborhood that Owen calls our "big adventure." In the beginning Avery was in the stroller, but she's walking right beside us now.
What's your favorite restaurant in Charlotte?
Heirloom.
What's your guiltiest pleasure?
I could eat a whole bag of bite-sized Tostitos without realizing it.
What's your favorite way to spend an unscheduled day with your kids in Charlotte?
I'd go to the park next to the Mint Museum off Randolph Road and let them run around while my wife and I sit on a bench. And we'd play with other people's dogs. We don't own a dog because we have three kids.
What's your favorite way to spend a night without your kids in Charlotte?
My wife and I like to plan imaginary date nights (laughs). It's always fantastic stuff like the Whitewater Center, an IMAX show, or a museum. But right now a date night is when I bring something home from Villani's Bakery and my wife and I eat it together at the kitchen table.
What's your biggest parenting fail to date?
Six months ago, I put Avery to bed and totally forgot to put a new diaper on. It'll be a long time before Marissa lets me forget that.
What's the best parenting advice you ever got?
About a month into quarantine, I posted a photo of Owen and Avery playing in the mud. I made a comment that I wasn't going to be good at homeschooling. But it amazed me how many early childhood educators posted, "No, this is great what your children are learning right now." I just thought it was so cool that all of these people who raise kids for a living told me I was doing it right.
What is one thing you hope your children learn from you and your career in public service?
Before the pandemic, I would take my kids to events and show them as much of my work as I could. I want them to picture themselves doing that kind of work, whether it's in politics or something else. I want to demystify the work of public service for my kids. The only frame of reference for a lot of people when they meet a politician is TV and that's not good. I want to show my kids the reality of actually serving your community. Once you do it for real, you can actually do the work. It lowers the mental barrier.
The Tough Stuff:
Chocolate or cheese? Cheese.
Coffee or tea? Coffee.
Ice cream or hot chocolate? Ice cream.
Hot dog or taco? Hot dog.
Reality or fiction? Reality.
Comedy or drama? Comedy.
More sleep or more free time? More free time.
Daniel Tiger or Daniel Stowe Botanical Garden? Daniel Tiger.
Baby Shark or Baby Einstein? Baby Shark.
Facebook or Instagram? Facebook.