PARENT TO KNOW: Molly Carroll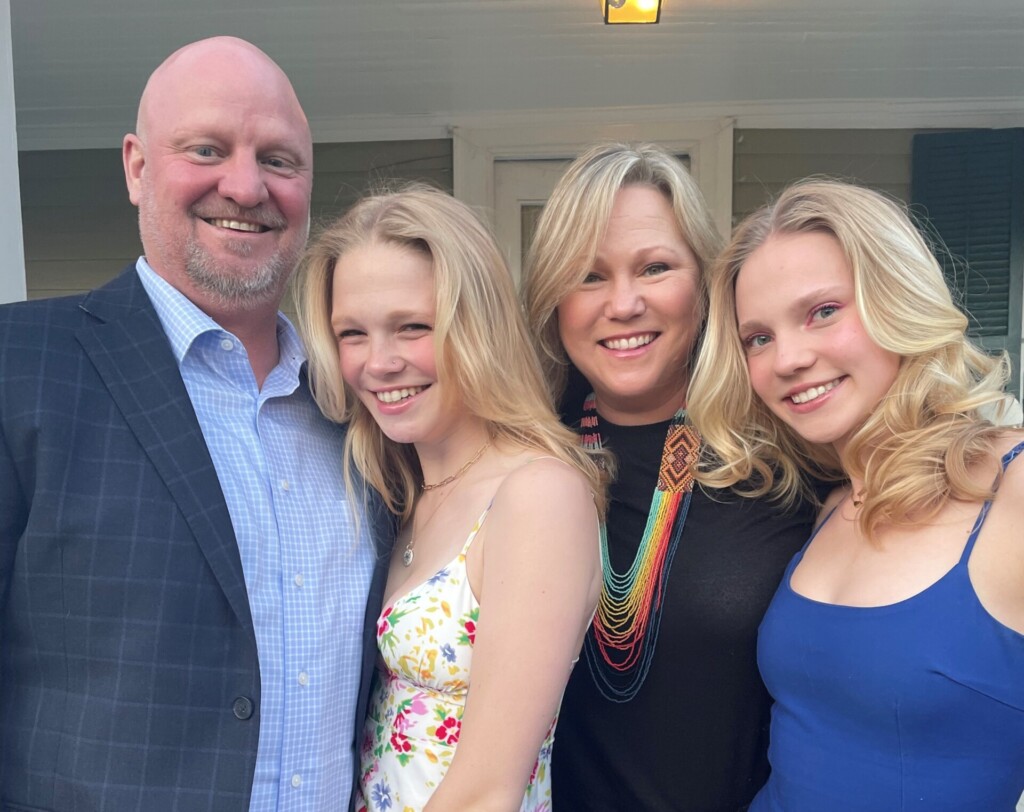 Molly Carroll's family has made a festive splash on their Plaza Midwood street during the holiday season for the last several years. And each year their yard on Wilhelmina Avenue draws a bigger crowd. When she's not spreading inflatable holiday cheer, Molly is a partner at Trinity Partners, where she leads their marketing and communications. The Tarheel graduate and her husband are newly empty-nesters, but they have no plans to scale back their holiday decor. Here, Molly talks holiday collecting, letting go, and a diaper rash cream incident that cost her a whole couch.
Tell us about your family. How many children do you have and what are their ages?
I met my husband, Troy, on a blind date in 1994 while I was working as a summer camp counselor at the Harris YMCA. We married in April 1996. We had Kate in 2001 (she's a senior at UNC CH) and Emma in 2004 (she's a freshman at UNC CH). Both are proud graduates of East Meck High School. We've lived in Plaza Midwood since 2000.
Who in your house is the holiday enthusiast?
The entire family is a little nuts about Christmas. We even attend the Southern Christmas Show together to get in the spirit. But if I had to name names, it's definitely Troy. There is no way we would have our display without his dedication. And he's the most enthusiastic Santa. Watching him hand out gifts Christmas morning is adorable. He has a huge heart and prefers giving to receiving.
How did the inflatable collection start? How have you amassed, stored and maintained it?
One night in 2010 we were hanging out with our neighborhood friends and the guys started joking about "Griswolding" our houses to see who could have the most festive holiday display. We started with about four inflatables and some lights. Our house was white at the time and Troy wanted to stripe the house with red duct tape so it would look like a candy cane, but thankfully he changed his mind. The collection grew from there. Troy and the girls would head out first thing in the morning the day after Christmas to scoop up new inflatables on sale. We store them in giant IKEA bags in our garage catwalk. They don't take up nearly as much space as you'd expect.
Now that the kids are out of the house, have you considered retiring the holiday decorations?
Yes. Even when they were here, we would joke every year "this is the last year! It's just too much!" At this point, we know what to expect. The day after Thanksgiving, we all head out to begin set up in solid spirits. Things start out great. About halfway through, we start to question our life choices and things get a little tense. But by the end when they are all up and people are walking by and smiling, it's pretty perfect.
Hardest part about being a mom?
Letting things go. Just because Kate and Emma approach something differently doesn't mean it's wrong or it won't work (whether it's how they load the dishwasher or how they approach having a tough conversation).
Favorite part about being a mom?
Rooting for Kate and Emma and watching them "do life." They never cease to amaze me, especially as they've entered adulthood.
Biggest parenting fail to date?
There are several, but one that quickly comes to mind is when I left a tube of A&D diaper rash ointment within Kate's reach during naptime. I walked in to wake her and both she and the couch in her room were a greasy mess. I was able to get the kid clean. The couch? Not so much.
Best parenting advice you ever received?
Trust your gut. Listen to your instincts and intuition. You're better at this than you think you are.
Marriage advice for new parents?
This is a tough one, but looking back, I'd say it's important for you to be a team. A united front who has each other's backs and can pick up one another's slack. This is especially important when dealing with well-intentioned family and friends who offer unsolicited advice or pop in for unexpected visits.
Phase you feared your child would never grow out of?
I honestly don't have an answer to this one. It feels like things moved quickly and changed so frequently that I was just holding on for the ride!
Favorite Charlotte restaurant?
It was Soul Gastrolounge (I'm excited to see what's next for them). But also, Lang Van. Dan is an absolute gem and Charlotte legend. When the girls were little, they'd race to see if they could finish their waters before the very-attentive servers topped them off.
Favorite place to shop in Charlotte?
Moxie Mercantile and Betty by Moxie are my go-to for gifts and (and for when I want to treat myself).
What local amenity/retailer/service could you not live without?
The real answer is Eric Smith, our electrician. He installed new outlets and equipment to keep the inflatables from tripping every breaker in our house. Aside from Eric, Bird Pizzeria. Hands down my favorite pizza in the city, and the owners, Kerrel and Nkem, are the best.