PARENT TO KNOW: Jen Kraus Rosen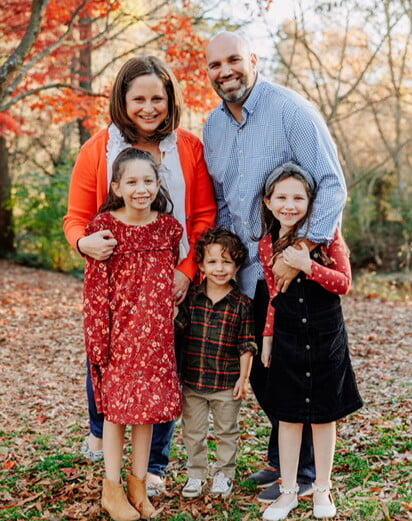 Jen Kraus Rosen is the Chief Advancement Officer of Moishe House, a global organization that facilitates engaging communities for Jewish young adults. When she's not traveling the globe for work, the Indiana University grad devotes her time to family and philanthropy. Here, she discusses the battle between productivity and presence, the AOS at Aldi, and the nightly inch-by-inch method she used to build an independent sleeper.
Tell us about your family. How many children do you have and what are their ages?
My husband Andrew and I have been married for 14 years and have been in Charlotte since 2011. We have three children: Bayla (9), Scarlett (7) and Grey (3.5), and are lucky to have two sets of grandparents in the area. Although we aren't native Charlotteans, we consider the Queen City our true home.
Hardest part about being a mom?
I'm a little obsessed with productivity, and while I enjoy getting things done, it doesn't always serve us. I'm working on putting away the "tasks" which can be work-related or just life/home related. My natural instinct is to always want to be doing something, thinking about next tasks or making plans. The downside of this obsession means I'm not nearly as present with my family as I'd like to be.
Favorite part about being a mom?
Witnessing my children in moments of curiosity and seeing their passions and interests develop. I love hearing the questions I would never think to ask and seeing how each of our brains process and see things differently.
Biggest parenting fail to date?
I have so many and just try to learn from them and grow in real time. My biggest failures definitely center around not always upholding consequences. I try to be firm and clear and sometimes just not following through is too convenient.
Also, and this is more a reflection of how I'm failing our wonderful schools and camps, I always need the "final" reminder on paperwork…always.
Best parenting advice you ever received?
Pick your three parenting things you want to strive to do well, and then be okay with not knocking the other areas out of the park. These can change over time, but clarity for your own sake is important. My current three are: 1) Dinner together, as a family, at least 5 nights a week 2) Connecting with each of my kids on something they are interested in for at least 5 minutes a day 3) Nurturing a love of reading.
Marriage advice for new parents?
Define responsibilities (we all have to divide and conquer to some extent) and offer regular reinforcement and appreciation to your partner.
Parenting support you could not live without?
This one is easy! We heavily rely on the help of others, including our incredible nanny who is an extension of our family. An early childhood educator by training, she is outstanding with children and super hardworking. Most importantly though, I think her judgement is spot-on. I could not be more aligned with the way she makes decisions and navigates tradeoffs. This allows me to fully delegate so much to her, which is especially important with my moderate work travel requirements.
The other support that holds us up are the people around us. We are very fortunate to having both set of grandparents nearby. And, we cherish having a strong base of wonderful friends, many of whom have similar stage families. Without local aunts or uncles, my kids are developing relationships with my trusted friends and my hope is that they will have many adults in their life they can trust, admire, and go to with challenges or for support.
Also, coffee.
Phase you feared your child would never grow out of?
I can only pick one? There are so many. The first and most memorable phase we experienced was when our oldest, Bayla, was about 3. She suddenly didn't want to sleep in her room, alone. We let her sleep with us a couple of times, and quickly realized that we didn't want that to become the new normal. We then let her sleep on our floor, hoping that phase wouldn't last long either. Despite the discomfort of the floor though, she dug her heels in (her personality taking root for sure) and days became weeks. We then decided that we would "move" her closer to her own room by having her sleep just outside our open bedroom door. Each night we convinced her to inch (literally inch!) closer to her room. For about a month we "compromised" by allowing her to sleep with her head/pillow just reaching her room, and for weeks, she slept on the floor, with her head in her room. Finally, on her own one night, she decided her bed would be far more comfortable, and she has slept there ever since. Needless to say, we have kept our youngest, who is now 3.5, in his crib!
Favorite way to spend an unscheduled day with your kids in Charlotte? 
Being unscheduled is VERY hard for me, but it's something I'm working on. My husband, Andrew, is much better at keeping our schedule open. On the rare days he succeeds by securing a few unscheduled hours, you can find us walking around our neighborhood, often leading to catching up with our neighbors. We also enjoy impromptu kitchen dance parties and game nights. The kids love classic board games (Battleship, Blockus and Uno) and also enjoy a family "Heads Up" tournament or round of trivia on Kahoot. Our easy unplanned family evening out would be heading to the Lodge for dinner with a stop at TCBY after.
You have a whole day to yourself. What do you do?
It would start early with a cup of coffee (or two!) followed by a smoothie and a long outdoor walk or bike ride. It would certainly entail some aisle meandering at HomeGoods, Target, and my favorite, the AOS (IYKYK) at Aldi. Then, my favorite indulgence: a midday nap, followed by an early evening out with girlfriends. I know you said by myself, but an extrovert is an extrovert…
Favorite Charlotte restaurant?
Hello, Sailor is probably my favorite, but a bit of a trip. Closer to home, our favorite staples include Fenwicks, Yafo, Foxcroft Wine, Royal Biryani and Fiamma.
Favorite place to shop in Charlotte?
I'm partial to online shopping. That said, I do love spending an afternoon walking and popping into different storefronts. We have so many great shops and boutiques here in Charlotte, but not a lot of places (although it's getting better) to stroll from one to another. Park Road shopping center is probably my current favorite location though to walk around and pop in different stores.
What local amenity/retailer/service could you not live without?
We practically live at Shalom Park/Levine JCC. The campus includes our preschool and elementary school, gym, swimming classes and synagogues. Through the Jewish Federation of Greater Charlotte located here as well, we support our community and volunteer. This place is the center of our universe and we are so fortunate to live very close by.