PARENT TO KNOW: Indre Buechler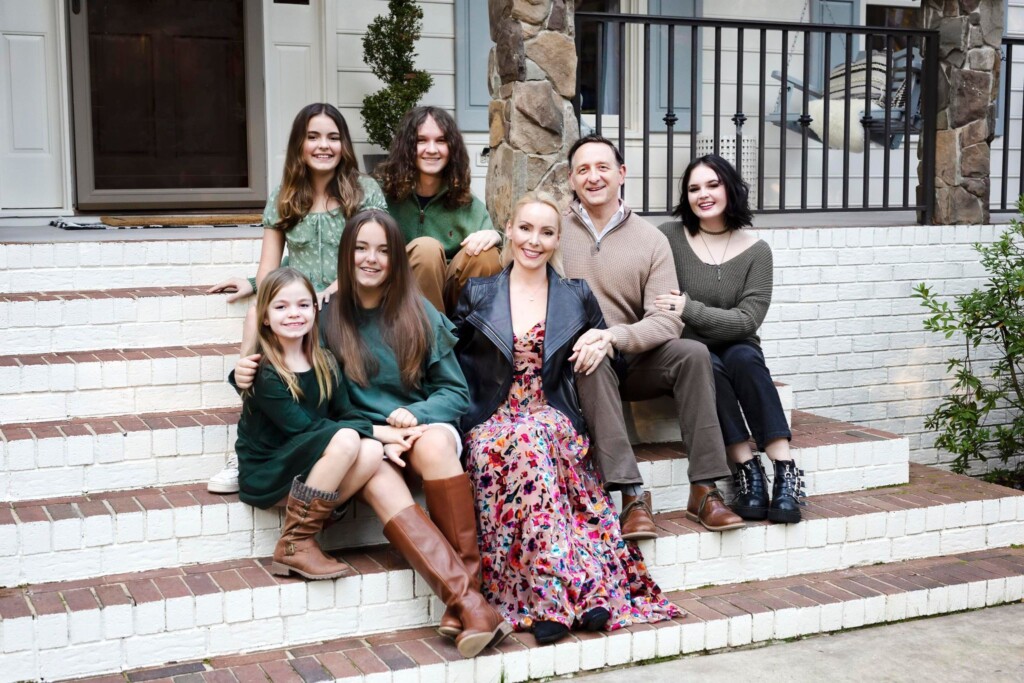 It's rare to see Indre Buechler in front of the camera. Most often she is behind it at Nest Photo Studio in South Charlotte. Here, the business owner and mom of five talks the importance of capturing photos of children, getting feedback from her kids, and surprise hamster pregnancy.
Tell us about your family. How many children do you have and what are their ages?
My husband and I have a total of five kids between Marvin schools and different colleges! I have Emily who is 11, Ella 13, Caroline almost Sweet 16 and my step kiddos Luke who is a freshman at Berkeley College of Music and and Savannah, who's a sophomore at University of Tennessee. My husband, Robbie, is a wonderful Neurologist with MUSC but we love him more for the world's best Sunday morning omelettes (amongst other things of course). 
Why choose families and children as your photography niche? Surely there are more compliant subjects!
Focusing on families and children as a photography niche brings a professional challenge but it's also immensely rewarding on multiple levels. There is unparalleled magic in helping tell a story of growth (professional with headshots as well!) love, family interactions and the spontaneity of childhood. Charlotte is a wonderful little big town and I love engaging with all types of family dynamics. It's heartwarming to see that, regardless of differences or what/how many parents and co-parents are involved, love remains the universal centerpiece. Growing up in Lithuania, I didn't have many photos of my own younger years, so I'm determined to make sure my children – and yours – have plenty to look back on. Seeing kids light up as they look at photos of their families is priceless. I hear this from my clients all the time how much their kids love flipping through the albums or seeing themselves in the wall art at home. Honestly, they don't care if your outfits are perfectly coordinated or mom looks her absolute flawless self, just get in that picture! I promise you won't regret it and kids simply crave it. 
Hardest part about being a mom?
Balancing between being a mom and a friend to my kids is one of the trickiest parts for me. While it's often tempting and simpler to be their buddy and say 'yes', I sometimes need to step in as the rule-setter. Ultimately, my goal is to guide them into becoming wonderful adults, while still nurturing a good bond with them. All of that can be quite the tightrope walk! Guiding someone through their childhood is undoubtedly the most profound responsibility I've ever taken on.
Favorite part about being a mom?
Choosing just one is a challenge, but right up there has to be sharing my love for the beach and witnessing their pure delight and the joy in their eyes as they play in the waves. It's a beautiful reminder of how life's simplest moments can be the most precious. A close runner-up would be making a hearty, nutritious meal and seeing the kiddos gobble it down. Seriously, what's a more satisfying win for a mom?
Biggest parenting fail to date?
Oh, where do I start? High on the list: getting sweet-talked into adopting a hamster that, surprise, came with a baby bump! I bet a few fellow parents have fallen for that one too! Also, hamster mommies can be interesting… will leave it at that. 
Best parenting advice you ever received?
One invaluable piece of parenting wisdom I've embraced is the significance of setting clear boundaries and striving for consistency. I think it helps root the children in a comforting foundation of stability while imparting values they will hopefully rely on throughout their life. Periodically, I have a convo with kids about what are some things I do well as a mom and some things I can improve on (that list is long!). The fact that we always try to set clear expectations and boundaries always somehow tends to come up as a positive for all kids, no matter their age. I'm a big believer in curfews, chores and volunteer or job responsibilities. 
Parenting support you could not live without?
Does Target count as one? But in all honesty, everyone needs their village, especially here in Charlotte without the luxury of family close by for many of us. Creating a network of phenomenal women, who are not only inspiring but also pros in their fields, has been extremely rewarding and time well spent. Not all are moms but finding like-minded, hard working women to bounce ideas off of that I respect and admire has been a game changer for me, parenting-wise, personally and professionally. 
Phase you feared your child would never grow out of?
The "milky in a bottle" phase of their beloved sippy cups – it felt like it dragged on forever. Funny enough, these days they've swapped those sippy cups for Starbucks – all of them! 
Favorite way to spend an unscheduled day with your kids in Charlotte? 
With the kids growing up, spontaneous outings become more rare but also cherished. A quick Sunday trip to Optimist Hall often hits the spot as everyone can find something they would like to eat (food is a big topic in our home as you can tell!) Thankfully, all five kids love Indian food so Blue Taj in Ballantyne for the win for sure! Then returning home for some  reruns of Survivor is a chill way to end the day. With the kids around, there's often an extra friend or two in the mix, and more often than not, our pool becomes the main hangout spot.
You have a whole day to yourself. What do you do?
One can dream! Someone would get up with the zoo and feed the two cats and our dog, drive kids to school and I would sleep in – the most underrated activity of adulthood for sure. For lunch, I would try a new restaurant with a friend, some aimless walking around stores, hitting Whole Foods with all the time to read labels and find new things to try, a massage and ending the day meeting up with my husband for dinner. All shamelessly self indulgent and periodically very necessary type of day. 
Favorite Charlotte restaurant?
Seeing Charlotte evolve into a foodie town with all these fantastic new restaurants is genuinely exciting.  And while I love exploring them all, Oku stands out – it's the backdrop of the best first date of my life with my now husband, Robbie.
Favorite place to shop in Charlotte?
I shop where I can support my friends and their business but I'd shop at Fab'rik in Waverly even if I didn't know the owner, Heather for years as a fellow business owner and also one of my studio's monthly photography members! They have the cutest things and are always welcoming, whether you have time to sit and sip their complimentary Prosecco or run in looking crazed like I usually do, with 5 mins to spare for that last min date night pick-me-up dress.
What local amenity/retailer/service could you not live without?
During the pandemic, I signed up for Shipt and it has become what sustains some of my 14 hour work days for sure! I'm not sure what I would do without it. For something more indulgent, my friend Anastasia is a skin educator and gives facials you don't want to be without at Beauty Mae Aesthetics in Southpark.