Paddle Boarding: Fitness or Fun?!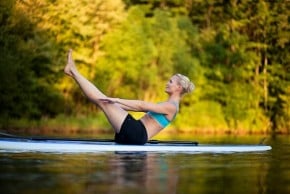 Stand-up paddle boarding is one of the fastest growing sports in popularity for good reason! An overall great way to achieve fitness and fun at the same time, it is a new experience every time on the water. One of the many perks about paddle boarding is that it allows you to escape your regular fitness routine and experience getting fit out in nature. Being out on the water allows you to relax, put your mind at ease and have fun while getting a great full body workout! Standup Paddle Boarding is easier on your joints, which makes it a great exercise for anyone. All ages can partake in the sport, even dogs, which makes it perfect for family fun!
As part of the paddle boarding services we offer, SUPyoga is growing in popularity. Practicing yoga on the water with just a board and water underneath you is a great challenge mentally and physically. It offers relaxation and focus by being present in the moment. Along with Paddle Boarding, SUPyoga creates a different perspective of working out which is a fun and unforgettable experience for yourself or the whole family.
My Aloha Paddle & Surf is the first of its kind in the Charlotte region. Offering stand-up paddle boards for individual and group activities as well as yoga on the water, the team of experts at My Aloha Paddle and Surf is always ready to get out on the lake, and they're welcoming anyone to join who's looking for a fun new way to stay fit and enjoy getting out on the water! 
Register for the Fit Family Challenge and try paddle boarding for free!