Pack a Healthy Lunchbox They Like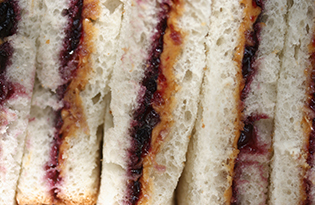 As parents prepare for yet another "back to school" season, they will scurry to malls in search of new clothes for their ever-growing child along with a litany of school supplies too numerous to name. But, let's not forget healthy school lunches as we plan ahead for the upcoming school year.
Here are a few great ideas to assure a happy school day is also a healthy school day:
Lean meat, such as shaved ham or turkey, on whole grain bread or in a wheat wrap with some lettuce, low/fat free cheese, and a touch of low-fat/fat-free mayonnaise or mustard is sure to please…and nourish.
Even the quintessential children's sandwich, PB&J, can be made in a healthy way these days. Many peanut butter brands now offer low-fat and low-sodium versions. That, coupled with an all-fruit, sugar-free jelly on whole grain bread makes this school cafeteria staple a guiltless pleasure.
Tuna fish is jam packed with oh-so-beneficial Omega-3 fatty acids. When mixed with low-fat mayonnaise, diced apple, and, if your child likes, a bit of onion and served in a wheat pita it's nothing short of delish and a healthy home run!
SEE ALSO: How to Create a Healthy Bag Lunch
BLTs can also be healthy! Simply swap regular bacon for the turkey bacon variety (in moderation due to high-sodium levels) and layer with lettuce, tomato, and fat-free mayonnaise. Sandwich in whole grain bread or roll into a pita wrap – your child will nary know the difference between this healthy version versus its fat-packed counterpart.
What to serve on the side of the main school lunch item? Options abound! Low-salt pretzels; fat- and sugar-free yogurt or cottage cheese; celery sticks filed with low-fat/low-sodium peanut butter; any kind of pre-washed fresh fruit (nature's gift to humanity); dried or dehydrated fruit, such as raisins; apricots, pears, apples, roasted or raw almonds, walnuts or peanuts (not oiled or candied); low-fat string cheese or chunked low-fat cheese; and even baked chips or healthy pita chips in moderation are all great choices.
Skip the sugary juice box and send along a bottle of water instead to get your child in the habit of working toward his/her optimal fluid intake (experts recommend one consume about .5 ounces of water per pound of body weight).
Merilee Kern, is the creator of the ground-breaking new app titled 'Kids Making Healthy Choices,' based on her award-winning illustrated fictional children's book, "Making Healthy Choices ­ A Story to Inspire Fit, Weight-Wise Kids."