Out to Eat: Go South-of-the-Border at Loco Lime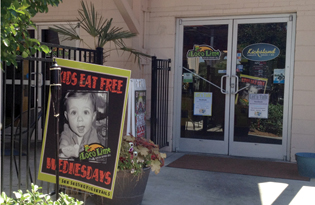 Loco Lime
1101 Central Ave.
locolimecharlotte.com
704-333-7837
$-$$$
Simple and fresh Mexican-inspired food is what you find at Loco Lime. The neighborhood restaurant features authentic tacos and freshly made guacamole, and kids eat free on Wednesdays.
It's a spacious place, so getting seated without a wait is usually no problem. Families are pervasive if you go for an early dinner. Servers are accommodating to children, quickly bringing crayons and a coloring sheet as well as chips and salsa and getting drink orders. Just inside the restaurant entrance (but far enough away that it's not distracting during dinner) is a skee-ball game and a claw-grabbing prize machine … bonus fun for the young ones.
I'm a sucker for the guacamole appetizer, freshly made at your table. It is delicious on salty chips and enough for at least four or more, which is good because it's priced at $8.95. My husband and I are also big fans of the Locorrito carnitas – a large burrito filled with juicy, spiced-just-right, roasted pulled pork.
On the lighter side, I like the tacos, which can be ordered a la carte. If you really love tacos, get your fill on Taco Tuesdays with $1 a la carte tacos.
Typical combination platters with rice, beans, guacamole, sour cream and pico de gallo are available. Meat choices for the taco, burrito, chimichanga and enchilada combo platters are impressive, including asada (grilled steak), barbacoa (soft shredded beef), carnitas al pastor (marinated chunky pork) and chorizo (Mexican sausage).
My family is pretty simple in its selections, but the menu includes lots of specialty items, such as shredded chicken tamales, an ancho-crusted pork chop, carne asada and camarones (shrimp) a la diablo. As for sides, the honey citrus cilantro slaw is a refreshing balance to the heavier main items, and the sweet plantains are a nice complement to the rice and beans.

SIDE DISH
Milk and Juice: Both | Changing Stations: Yes | Kids Menu: Yes
Symbol Key: $ = under $10 • $$ = $11-$15 • $$$ = $16-$20 • $$$$ = $20-plus
> Read last month's restaurant review: Terrace Cafe