Orange-Scented Pumpkin Tempura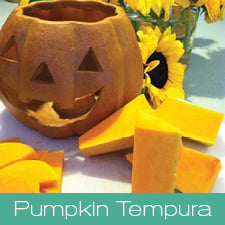 Ingredients:
1 cup self-rising flour
1/3 cup cornstarch
Zest of two oranges
1-1 1/2 cups orange flavored sparkling water
3-4 cups canola oil for deep frying
Raw sliced pumpkin
Directions:
Combine the flour and cornstarch in a medium-size bowl. Blend well with a wire whisk. Stir in the orange zest and enough sparkling water to make a smooth batter.
Heat the remaining canola oil in a shallow saucepan. Place a clean, dry wooden spoon or chopstick in the oil as it heats. When little bubbles start to form around the piece of wood, then the oil is hot enough to deep fry.
Remove the spoon or chopstick from the pan, dip the raw slices of pumpkin in the batter and then carefully dip in the hot oil. Fry until the batter surrounding the pumpkin slice is golden brown. Drain on paper towel, allow to cool a bit and then enjoy.
> Find more pumpkin recipes