One the Sidelines: Athletes and Disordered Eating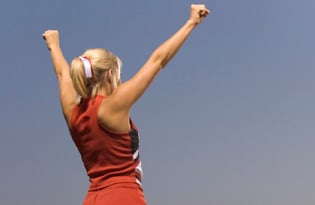 Participation in sports and exercise often serves as a buffer for body image concerns. While participation in sports is most often a healthy experience, there are some ways in which that same participation can contribute to a greater chance of developing an eating disorder.
Though we often associate eating disorders with females, studies indicate that the number of males with eating disorders is on the rise. Athletes in any sport can engage in unhealthy eating behaviors that may develop into an eating disorder, but sports that are more appearance driven – such as gymnastics, cheerleading, diving and dancing – or are more weight restricted – such as wrestling, rowing and cross-country – tend to have higher numbers of athletes with eating disorders. It is also important to keep in mind that young people do not necessarily need to meet "criteria" for an eating disorder to engage in unhealthy and disordered eating patterns that can put them at risk for malnutrition, injury, weakness, dehydration, performance difficulties, and even depression and anxiety. Be aware of the following signs.
• A preoccupation with food and exercise. When exercise is viewed as a method of compensating for daily food intake, there may exist an irrational fear of weight gain that can become problematic.
• Significant body dissatisfaction. Unfortunately, we have become too accustomed to young people complaining about their bodies, their appearance and physical things that they want to change. Pay attention to how often this concern is expressed, particularly in addition to eating and exercise habits.
• Sudden changes in eating behaviors. This includes avoidance of eating in public or not engaging in group activities that involve food.
Bhaviors of concern include lack of energy and increased fatigue, difficulty concentrating, more frequent injuries and muscle strains, increased isolation and perfectionism. Early intervention and communication can be the key to protecting a young athlete from something that could develop into a lifelong struggle.
Nyaka NiiLampti, Ph.D, is an assistant professor of psychology at Queens University of Charlotte, and co-director of Mind Over Body, a sports performance program at Southeast Psych.