One-Stop Shop for Volunteer Opportunities in Charlotte
Two local moms launched Share Charlotte as a place to find a consolidated collection of Charlotte's volunteer opportunities.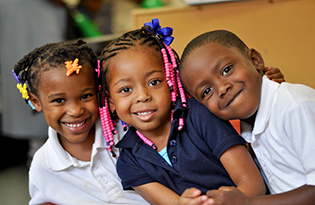 Three years ago on a chilly Christmas Eve morning, Olivia Brooks, now 11 years old, was inspired to set up a hot chocolate stand to raise money for children in Charlotte who didn't have a home.
"That was the beginning of our annual Christmas Eve Hot Chocolate Stand and last year we raised almost $600 for A Child's Place," says Kelly Brooks, Olivia's mom and co-founder of Share Charlotte.
Kelly Brooks' passion for volunteering as a family morphed into the idea of making it easy for other families in Charlotte to find fundraising opportunities. Brooks and her partner, Kimberly Paulk, found it was virtually impossible to navigate through all of the city's nonprofits because there was no one-stop shop. Thus, the two moms launched Share Charlotte and sharecharlotte.com as a place to find a consolidated collection of Charlotte's volunteer opportunities.
Share Charlotte's launch included information from 80 local nonprofits, and has grown to include 225 organizations. Families can search the site by nonprofit sector, age, types of opportunities and skills needed for ongoing opportunities or specific events. For example, by searching for a nonprofit that helps children and is appropriate for ages 5 and older, Promising Pages, a group that provides books as wrapped presents to children who don't have any is an ongoing option that appears on the site. For families with children 15 and older who want to work with animals, the opportunity to help prepare animal food for the Carolina Waterfowl Rescue pops up in the search return.
Brooks and Paulk would like to take Share to other cities. "We strongly believe that the success of our country is based on the health of our local communities," says Brooks.
Find out more at sharecharlotte.com and stay connected on twitter @shareclt.