On-Ramping: From Mommy to Manager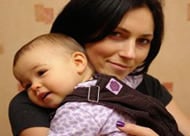 According to the Harvard Business Review, 43 percent of professional women with children step off the career track at some point. Sylvia Ann Hewlett of the Center for Work-Life Policy says two-thirds of those women want to re-enter professional life at some point. The path back into the working world, known as "on-ramping," can be challenging, but mothers are proving they can overcome these obstacles to find rewarding careers.
Kella Hatcher is one of the founders of Balancing Professionals, a Raleigh-based business that connects professionals with employers in flexible and part-time positions. She defines "on-ramp" as "… a path into the work force for someone who has taken time out (usually to be home with children) and is seeking to get back in."
Mothers choose to go back to work for many reasons — a husband is laid-off or injured and unable to work or a divorce forces the stay-at-home mom to consider other income options. But many moms simply need to fulfill themselves in a pursuit beyond carpools and charity work and want to return to a career they left behind.
Consider the Options
"Take the time to do some self-analysis," says Hatcher, "and ask yourself some important questions related to which skills and talents you want to put to use in a job, how you enjoy spending your time, what your priorities are with respect to compensation or scheduling, or really anything that matters to you. If you are lacking confidence, do whatever it takes to build yourself up before putting yourself in front of employers. Finding your focus is time well spent, because a lack of focus or confidence can come off poorly in an interview or lead you to a job you don't really want. 
In "Back on the Career Track: A Guide for Stay-At-Home Moms Who Want to Return to Work," authors Carol Cohen and Vivian Rabin note, "This is no simple decision. Unlike the choice to pursue non-work passions, the decision to return to work has the distinction of not being completely on your own terms. It involves an obligation to others beyond your family and you. The last thing you want to do is take on a professional commitment and not deliver."
Today, companies are more likely to offer telecommuting, job sharing and flexible schedules to accommodate working mothers and talented professionals. These options make it more appealing to return to work for full-time or part-time job seekers. So, how do you get started?
Navigate With a Network
"The best way to start is to focus on your network and your resume," says Meredith Ritchie, the vice president of sales at MomCorps in Charlotte. "Creating or updating your resume helps you itemize the strengths that you have to offer a future employer. Also, start strengthening and rebuilding your professional network. She advises e-mailing former colleagues who respected your work ethic and let them know you are ready to rejoin the work force.
"Networking is not about exchanging business cards or small talk, it's about building relationships and finding out how you can help others as much as how they can help you," says Hatcher.
Corinne Weldon understands the power of networking. After a divorce, she was faced with finding full-time work with a 3-year-old at home. "I continued to keep in touch with my professional network even though I was not working." A former recruiter living in Cary, she landed a job through her network and moved to Charlotte.
Ritchie recommends that job-seekers "join an online networking service like LinkedIn or Jigsaw and ask all of your friends and former colleagues to join your network. Many corporate recruiters for major companies use these services to find qualified candidates, so be detailed in the creation of your online profile."
Hone Your Skills
After reviewing your resume and establishing a network, consider updating your skill set — especially if you were at home for an extended period of time. Women who "off-ramp" stay at home for an average of about two years and two months. Experts suggest it becomes more difficult when the gap widens to 10 years or more.
"Be prepared to proactively discuss how you've stayed current on your skill set either through continuing education, certification credits, volunteer work or a home-based/family business venture. Talk to a friend or former colleague currently in your field and find out what the latest developments have been and make a plan to fill in your own gaps," says Ritchie.
It's important that you get up to speed on legislation or technology advancements, but the impact of the employment gap depends on the profession.
Nail the Interview
So you've finally got the interview. Now what? Interviewing is a skill, and most moms are out of practice. Ritchie offers these points for acing the interview:
• Do not apologize for opting out and do not go into specifics about your reasons for doing so, unless asked directly. 
• Do not compare yourself to other caregivers or try to appeal to the personal experience of the interviewer. If asked why you have a gap in your resume, make it clear that you did not leave the work force because it was simply "too hard" to juggle career and family. Instead position yourself as someone who was uncomfortable giving less than 110 percent of yourself at the office, so you off-ramped until the time you could again be 110 percent dedicated. 
• Practice answering the hard questions about your career gaps in the mirror or with a friend/spouse. Remove all uncertainty from your voice as you form your response.
• Focus on the positive. Know your strengths and be comfortable with them. End each response to an interview question on a positive note. Understand that there is a talent shortage in many fields, and the large majority of the work force is pleased that you are re-entering or on-ramping.
Plot a 'Mompreneur' Path
If you want to get back to work but need more flexibility, try becoming your own boss. More women are opting out of the traditional corporate world and starting their own small businesses. In 2006, an estimated 211,980 privately-held firms in North Carolina were majority owned by women. This is up 63 percent since 2001.
Elizabeth Galecke, the founder of Chix in Business, a Raleigh networking group for women business owners, understands the benefits of owning a business. "First, being able to run a business based on your core values, instead of having to follow what someone else feels is important. And second is flexibility. It will still be long hours and a lot of work, but [as a business owner] you can determine when you want to work and when you want to take time off."
If you decide to start your own business, Galecke offers this key bit of advice, "Take yourself seriously. If you don't, others won't either and it is hard to change that once you start off the wrong way."
Whatever path you choose as you "on-ramp," remember to be patient and willing to learn. There will be challenges and setbacks, but also victories. Rely on your family for support, your network for connections and your skills to get the job done.
Eve White is the Editor of Charlotte Parent magazine