Old-Fashioned Potato Latkes With a Twist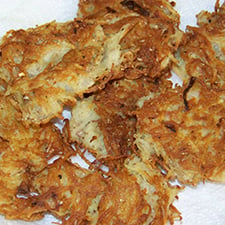 When I was growing up, potato pancakes — or latkes — were a staple side dish in our house. My mom had to make tons of them because my brother and I, and Daddy, too, would eat them right out of the pan as she cooked, way before we all sat down to dinner.
This recipe always brings back great memories, and with my updated twist on the original theme, it's a great way to make use of fall butternut squash and sweet potatoes. Start making memories with your family and give this recipe a try.
My Mom's Old-Fashioned Potato Latkes With a Twist
5 sweet potatoes
1-2 butternut squash
2 medium onions (for savory version)
2-3 large local or organic eggs
1/4 cup flour or breadcrumbs
Salt and pepper
Brown sugar and cinnamon (for sweeter version)
Canola oil for frying
Peel the potatoes and keep them in cold water. Grate the potatoes, squash and onion into a big bowl (this is easily done in the processor and is a lot easier on the fingertips than the old box graters my mom used to use). Blend the potato, squash and onion mixture with the flour and eggs, and salt and pepper for a savory latke. For a sweeter option, leave out the onion, and opt for brown sugar and cinnamon as a topping.
Heat one inch of oil in the bottom of a large frying pan. Drop about one tablespoon of the potato batter into the hot fat and fry until golden brown, turning once. Drain on several thicknesses of paper towels. Serve warm topped with applesauce, sour cream or smoked salmon or pork, chicken or veggie sausage.
Note to make these a bit less fat-full, use just a drizzle of extra-virgin olive oil in a non-stick pan — every bit as delicious.
Heidi Billotto is a culinary expert who hosts cooking classes throughout the Charlotte area. Find more at heidibillottofood.com.