Old-Fashioned Popcorn Balls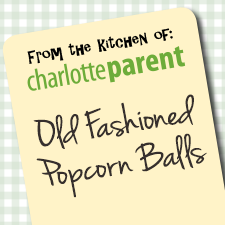 The perfect blend of salty and sweet.
3 tablespoon butter
1 (7-ounce) jar marshmallow fluff
6 cups fresh popped popcorn, lightly buttered and salted
Melt the butter and marshmallow fluff in a saucepan, over medium heat, stirring with a wooden spoon until the mix is smooth. Stir in the popcorn and toss until the popped corn is well-coated. Using a pair of rubber gloves or buttered hands, gently shape the mix into baseball-sized balls as soon as it is cool enough to handle. Eat warm or at room temperature.