Nutrition and Kids! Questions for a Registered Dietitian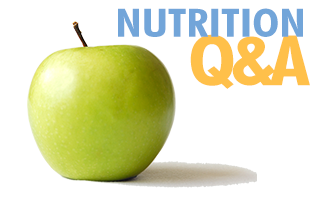 The Fit Family Challenge motivated more than 1,745 people in the metro Charlotte area to get moving! At the end of the day, it's about adopting a healthier lifestyle for you and your family.
Melissa Herrmann Dierks, RD, LDN, CDE, registered dietitian, Certified Diabetes Educator and Licensed Nutritionist, has provided nutrition tips below to help you to keep your kids on the right track. Chat with Dierks on Facebook, Weds., Nov. 7. Send your nutrition questions to wellness@CharlotteParent.com and participate in the live chat!
Q. How can I translate the daily values, percentages of nutrients and portion sizes on food packages to my children's nutritional needs? And how do I determine portion size for my children?
A: A child's nutritional needs should not solely rely on specific foods or even portion sizes. It is about balance, variety and moderation. This can be achieved simply by making sure to include a fruit or vegetable serving with every meal. Appropriate portion sizes vary by age and the child's amount of physical activity. 
Q. How have nutritional values and recommendations for children changed in recent years?
A: The focus has shifted to managing fat and sodium intake as well as plentiful amounts of fiber within one's diet. These guidelines are geared towards disease prevention and weight management.
Q. How many calories should my kids consume in a day and does it increase if they play sports?
A: Calorie needs vary and can be based on age, gender as well as activity level. Calorie counting is not a typical tool used with children or even adolescents. The goal is to focus on balancing food consumed with physical activity. 
Q. What impact does soda consumption have on my children's health and how can I apply healthy guidelines for sugary beverages such as soda, juice and sports drinks instead of banning them entirely?
A: I recommend enjoying soda in moderation. For the whole family, I encourage the consumption of water and flavored water, such as vitaminwater and vitaminwater zero, which are great options for hydration during and after physical activity. If you are looking for portion-size options for the entire family, Coke mini cans are just 90 calories each.
Q. How does limiting "screen time" promote healthy eating habits and fight against childhood obesity? 
A: The limitation of "screen time" may not promote healthy eating habits, but it does encourage physical activity. I recommend the limitation of this to one hour per day, and only after an hour of activity has been completed. I encourage outdoor activities such as bike riding, walking around the neighborhood and playgrounds. For bad weather days, an exercise DVD for children and/or a mini trampoline in the house can be alternative options. 
Q. I know that my children need plenty of fruits and vegetables. Please talk about the reasons why a varied diet is essential and explain how to ensure a balanced diet when I have a picky eater at home. 
A: A diet rich in fruits and vegetables can help with weight management, but also with disease prevention. Offering children a variety of fruits and vegetables from the start will teach them healthy eating habits. Helpful tips, include: cutting fruit into easy-to-eat small pieces, and dried fruits like raisins in small boxes, which are popular among small children. And as a way to help teach your children to shop, let them child pick out a new fruit and vegetable at the store each week.
Q. Good vs. Bad sugars: What is the difference; and since sugar may also be found in good foods (i.e. yogurts or fruits) I want my child to enjoy, how do I explain it and control it? And, what is an acceptable amount of sweet treats (candy, cookies, etc…) to allow my children to eat?
A: There are naturally occurring sugars and added sugars; however, both offer a similar carbohydrate and caloric content. I suggest limiting candy and cookies to special occasions like a trip to the mall. I'd like to note the importance of reinforcing a healthy diet and being a role model with smart nutritional choices; your child will pick up on that.
Q. Explain why water is so essential for children, what the daily requirements are and how water is a part of a healthy diet. 
A: Children need to stay hydrated to sustain good health. Water and milk are great choices for hydration. But, if your child wants more than just plain water, it's important to remember that all beverages are hydrating. Daily requirements are based on age and weight, but I encourage your child to rehydrate when being active. Try to keep bottled water on hand and make drinking water more exciting, or consider giving your family low-calorie sports drinks after being active.
Q. What are some healthy snack options for children?
A: I advise my clients to think of snacks as mini-meals. I recommend offering foods that have some nutritional value such as: yogurt, string cheese, frozen fruit bars, high fiber cereal with milk, lean meat rolled up, 2% milk cheese slices, apples with peanut butter, vegetable soup, whole grain crackers, 94% fat free microwavable popcorn, raw veggies dipped in hummus, fresh/canned/ dried fruit or a small baked potato with low-fat grated cheese.
Q. Do you think it is necessary that children take supplemental vitamins?
A: I suggest checking with your pediatrician's recommendations for supplements. This need is based on health history, the age of a child, eating habits and other health parameters. A basic children's chewable vitamin can help fill in the gaps; however, the nutrition research we have is based on nutrients coming from foods not supplements.
> Find out more about Melissa Herrmann Dierks RD, LDN, CDE and Eat Smart Nutrition Co.