North Carolina Schools Move Toward Digital Textbooks and Resources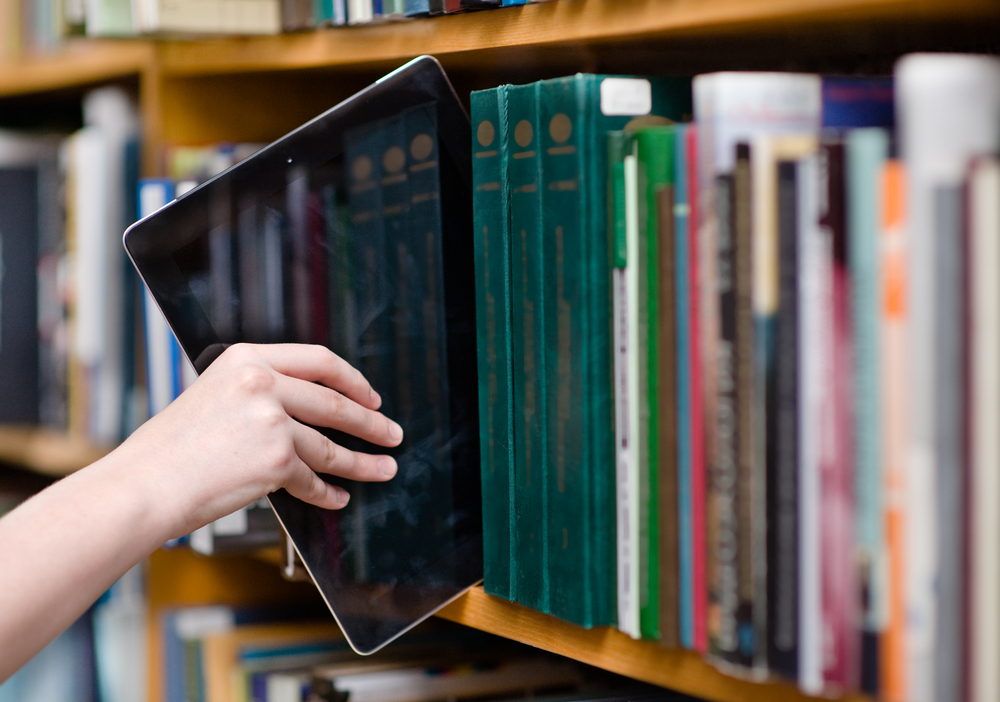 In 2013, the General Assembly passed Session Law 2013-12/House Bill 44. It states:
"It is the intent of the General Assembly to transition from funding for textbooks, both traditional and digital, to funding for digital materials, including textbooks and instructional resources, to provide educational resources that remain current, aligned with curriculum, and effective for all learners by 2017."
Even though the legislation affects only public schools, public and independent school leaders say there are advantages and challenges associated with switching from physical to digital textbooks.
Publishers' sales reflect trends toward digital content. In 2015, digital content accounted for a third of all of Houghton Mifflin Harcourt's invoices and about half of its large program invoices, says Jennifer Berlin, director of corporate communications for the company.
"It's useful to think of digital curricula versus digital textbooks," Berlin says. "Today's digital programs offer so much more than a static PDF document and can allow for a more immersive and engaging learning experience for students."
Teachers' Perspectives
But what do teachers and curriculum administrators think of transitioning to digital textbooks? Although her independent school is not impacted by the legislation, Tameka Woodard, Charlotte Country Day School's middle school director of studies, notes the advantages.
"Sometimes when textbooks are published, the material can already be out of date when the book hits the students' desks," Woodard says. "In using digital textbooks, students are allowed to have electronic updates for the textbooks. The digital textbooks are also livelier and more interactive." Students in grades three through eight at Charlotte Country Day School use iPads; high school students use Microsoft Surface tablets.
However, Woodard says teachers also need to be ready for technological glitches, students distracted by devices and students who prefer paper-based materials.
Some teachers use publisher-prepared digital textbooks, whereas others curate materials for digital textbooks. Cary Academy math teacher Nicky Allen, who teaches in a one-to-one environment, creates her own digital textbooks.
"While creating digital textbooks is very time consuming, it is one of the most rewarding parts of my job and one of the reasons I love teaching at Cary Academy," she says. "I can make my materials directly support exactly what I want to teach, and I don't have to include things I don't want to teach."
Robin Britt, director of instructional technology in Guilford County Schools, says middle schools in the county have had a one-to-one laptop initiative for a few years as part of a federally funded Race to the Top grant. Elementary and high schools in Guilford County do not have one-to-one initiatives.
While Guilford County has not yet purchased digital versions of traditional textbooks, Britt says teachers in Guilford County can access and create a "constellation of resources" to meet students' needs, however. They might pull in an online article to go along with a traditional textbook chapter, for example.
Rashad Slade, director of instructional technology, media services and virtual learning in Guilford County Schools, remarks on differences between traditional and digital textbooks as he discusses a Discovery Education Science Techbook that upper elementary and middle school students use.
"In a book you can see a picture of the shark," he says. "In the Science Techbook, you can hit play and watch the shark feed. You can watch the shark jump out of the water."
One of the advantages for teachers, Britt says, may be counterintuitive. Because teachers can use available digital resources to assess students' academic abilities, teachers are freer to "do a lot of face-to-face teaching."
Student Access
Teachers need time to learn about digital resources, according to Britt and Slade. Britt says some teachers worry about giving up control and distractions caused by digital tools. Teachers need to think about what they will do if devices are not charged or the internet is unavailable. Student privacy is also important.
While statewide initiatives such as Race to the Top provide much-needed funds for middle schools, Slade says there are still challenges in funding infrastructure and availability of devices that will allow teachers and students to access digital content.
"You've got rural areas that may not have signals and Wi-Fi capabilities, and schools don't have the infrastructure to support this," he says. "Luckily, Guilford's in a position where we do have the infrastructure to support this type of access through Wi-Fi access and the capability to handle the load of users [who] all are trying to log in at the same time."
Dov Rosenberg, instructional technology facilitator at Durham's Rogers-Herr Middle School, says students and teachers at his school have digital textbooks and resources at their disposal, despite not being a one-to-one school. In addition to using digital textbooks in some classes, students access Discovery Education, NC WiseOwl, NC LIVE and Project Gutenberg. There are four computer labs, a laptop cart, and iPad and iPod carts.
Without a one-to-one initiative, teachers with digital textbooks may be printing from the textbook, Rosenberg points out. "Digital textbooks are a bit of an issue if you're not one-to-one. Then it means that the teacher and the school are paying for a lot of printing. And I think that's the kind of thing that most people would not think about," he says.
Rosenberg knows the advantages of having digital content available, but also understands that the reality at many schools is not every school has a computer for every student, and not every student has internet access at home.
"It is very unusual to have an entire student population having access to a computer and the internet from home," he says. "Then there are issues of equitability. … I love the online material. I love that it's current, and it's up-to-date, but I don't like that there's this equitable access issue," he says.
Many school administrators and teachers agree that there are advantages to going digital. How the General Assembly's bill will play out in districts with infrastructure and access challenges, however, might be another story.
Kathryn Caprino is a professor and freelance writer in Gainesville, Florida.