North Carolina Scholarship and Grant Programs Providing More Education Options for Children with Special Needs
Financial opportunities grow for children with special needs to attend private schools that may better meet their individual education needs.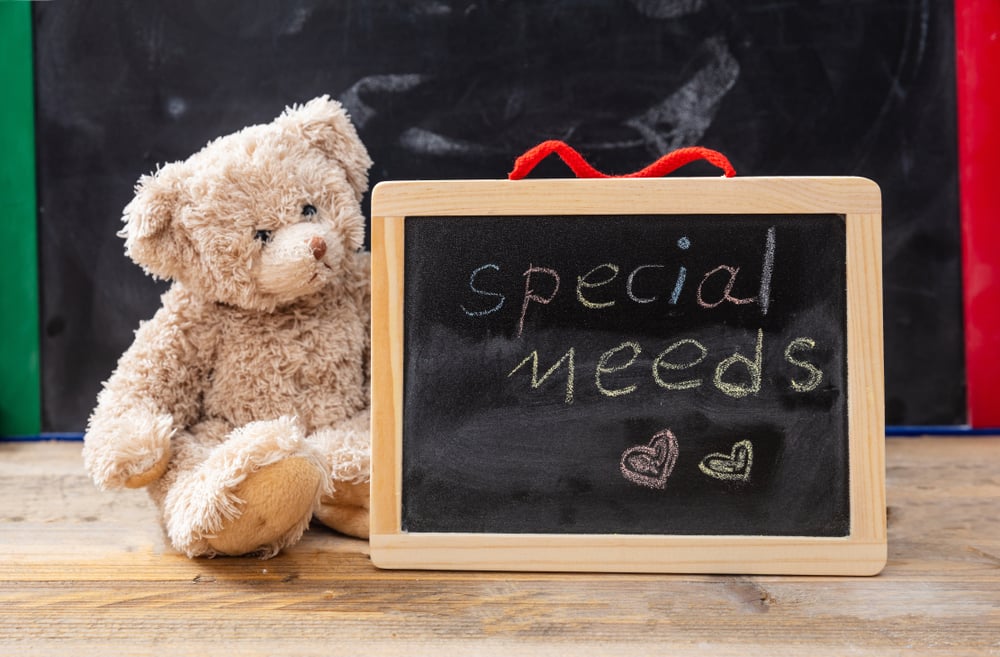 Sending my first born off to kindergarten was filled with a level of angst and an amount of research that rivaled any college search. I remember watching other moms at transitional kindergarten (TK) graduation, swap contact info and discuss teachers because they knew their kiddos would be attending kindergarten at the same school that upcoming fall.
I wasn't in that circle of moms. I knew the schools my family was considering for our son with special needs, but had no idea which one we would finally land on and that not-knowing weighed heavily on my mom heart. I cannot overlook the privilege we had of having so many options in our city, but the struggle to select the best fit was real.
Making the Best Choice for Your Child
As a mom of three, and especially as a parent of a child with special needs, experience has taught me that all children have unique learning styles and environments in which they thrive. We applied to kindergarten at several charter schools, a language-immersion program, a public school and a private school (and don't think homeschool and co-ops weren't swimming in my head too). We simultaneously had the added steps many parents of children with special needs have: Walking through the process of kindergarten transition and evaluation to maintain our Individualized Education Plan (IEP), and explore what support services might be needed and provided in different school environments. It was a very intensive process and year.
We now have a rising third grader, and I have the opportunity to share with other families about the state scholarship and grant programs my family discovered on our journey, and some of the considerations to walk through as you look at the school options available to children with special needs.
School Choices, Scholarships and Grants
The fall prior to my son with special needs entering kindergarten, while we were touring schools and attending open houses, I came across an article in the newspaper regarding North Carolina state-funded grants and scholarships. Intrigued, I looked up the North Carolina State Education Assistance Authority and starting digging around.
At that time there were two programs available: The North Carolina Opportunity Scholarship and the Children with Disabilities Scholarship Grant. The North Carolina Opportunity Scholarship Grant provides annual scholarships of up to $4,200 per year for families that meet income eligibility requirements to have access to a private school that best meets their child's educational needs. The Children with Disabilities Scholarship Grant enables families with children with special needs and an IEP Dec 3 form to be reimbursed for approved educational expenses or apply tuition payments up to $8,000 per year directly to a participating private school.
As a family with a child with special needs, our financial situation had evolved so unexpectedly over the years in supporting our child's therapy, medical needs and development that private school was well out of our own financial reach, but suddenly there was a glimmer of hope that perhaps these programs might make a private school an option to consider as well.
As I read through the qualifications for each program and the application process, which began early in the year prior to the fall we were to begin kindergarten, I had tons of questions, but wasn't sure who to ask for answers. We had just finished a year of TK in a private setting, so our child's IEP had been inactive for a year and we were in sort of unique territory.
After some searching, I came across Parents for Education Freedom North Carolina, a nonprofit organization aimed at helping families navigate options, including state grants and scholarships, so they have access to the full range of choices available. A quick call with Kwan Graham, the director of community engagement, and I had my questions answered, guidance for the process and support.
I completed the applications and we waited for the decisions and notifications for each program, which are separate and spread apart through the spring and early summer. Going through this process prolonged our school-decision process and caused some stress as many private schools require deposits and a commitment early in the spring. To add to the delayed timeline, the private school we had applied to was just starting the process to be an approved participating school in both of the state programs. Many Charlotte private schools that participate in the opportunity scholarship are not staffed and equipped to accommodate the needs of students with special needs, however, special-education support is required at schools that participate in the Disability Scholarship Grant. (Families can refer to the list of participating schools for each scholarship and grant option provided on the North Carolina State Education Assistance Authority or work with their private school of choice to request their consideration in applying to become a participating school).
It is important to recognize the length of this process up front and be mindful of the possible challenges it may present with making decisions for multiple children. What worked with us for our first child for kindergarten certainly has become more challenging with schedules and transportation as all three of our kids continued to matriculate to different schools.
We were awarded the North Carolina Opportunity Scholarship and Disability Scholarship Grant for kindergarten. After attending three kindergarten open houses days before the start of school, we finally made our decision and selected the private school where we had applied.
A Learning Curve
As the year progressed, there was a learning curve for us and our school in navigating how funds were disbursed, applied and reimbursed in some cases. Each scholarship and grant program has its own set of rules and considerations. For example, the North Carolina Opportunity Scholarship is disbursed directly to schools and may only be used towards tuition and required fees at a participating nonpublic school. The Disability Scholarship Grant is also disbursed to schools but only for tuition and required fees at the participating school. The Disability Scholarship Grant may also be used for qualified expenses related to educating a child with an active IEP in a regular nonpublic school or homeschool, but these expenses but are distributed as a reimbursement to parents at then end of each semester.
Many private schools bill education support services (the special education services that are required for students to have in order to qualify for the grant) separate from tuition, so we had to be able to pay these funds up front and then were reimbursed by the school. So, it's a lot to consider.
In 2018, North Carolina passed another grant program called the Education Savings Account (ESA). We were fortunate to also be awarded this grant as we entered second grade in the 2018-2019 academic year.
This ESA program has the most flexibility and, in my opinion, was truly written to accommodate families with children with special needs. The program provides $9,000, disbursed in quarterly payments, for parents to direct funds for tuition, education support services or even private therapy (a list of participating providers is available) through a system akin to PayPal.
The best part: Unused ESA funds are rolled over to the next year provided the child continues to participate in the program and meet the requirements. Homeschool students that require special education as documented in their IEP also potentially benefit from the Disabilities Grant and ESA. All three programs do have a seamless renewal process each year, so once they are awarded, families can rest a little easier knowing they don't have to reapply and hold their breath each spring.
Other Considerations
Even with the scholarships and grants in our corner and the option to attend a private school, we still labored over our kindergarten decision for our child with special needs. Though private schools that participate in the disability grant program must be able to provide special-needs services to a student, the legal accountability and rights afforded through the IEP system in a public school is not applicable in private school.
Special-needs services at a private school are often a fee above and beyond tuition. And though our school is able to provide special-needs services in school, those services do not include therapies like speech therapy, which would have been provided in the public school setting. Thus, the cost of private therapy is an added consideration.
While we were fortunate to receive more than one grant and scholarship that covered a considerable portion of our tuition, fees and services, we still had considerable out-of-pocket costs. There was also the reality that tuition and fees continue to increase each year, but grant and scholarship money does not. Thankfully, the addition of the ESA we were awarded this year, has helped tremendously to off-set some of these costs in addition to helping with private therapies.
Finally, we found there were few private schools in the Charlotte area that were able to accommodate special needs students with our diagnosis in the K-2 grade levels. What if kindergarten hadn't gone as smoothly or we needed to switch schools? We were faced with the reality that we might be on the hook for some portion of tuition, which we certainly would not have been able to afford, if we had to leave mid-year. And, if we had to switch schools and couldn't find another private school to go to, we could lose the grants and scholarships for the next academic year if we still wanted to pursue a nonpublic school option.
Amidst all of this, I really just wanted to focus on school uniforms and picking out a lunch box. Please, just give me a list of school supplies to go get that is straight forward and specific. No more big decisions. But it was also in that moment of looking at a sea of lunchboxes on the wall at a local store, it hit me. We don't have to make this decision for life. Nothing is in stone. For a mom that attended several different schools growing up, and then graduated with a small class of students, most of whom had been together for 13 years, I desperately want my kiddo to experience longevity in relationships and community. I want to see some of the same faces at high school graduation that were in my child's kindergarten graduation photo. I am really looking for a place of care and community where we know the drill and have a few less surprises in our already rather upstream life.
But what if I let that go? What if we just took things year by year? What if we just went into this adventure without the added expectations that it had to be the right fit forever? And that is when the peace rushed in and I could finally make a decision based on what my child needed now and not five years into the unpredictable future.
The state-provided scholarships and grants gave us the extra option that worked best for us over the last few years. I still hold out a little hope that this will all continue on the same path until our kiddo graduates, but as the state programs continue to expand and gain more participating schools, I also find peace knowing there are more options every year for students with special needs in our community. Getting all of the parts and pieces in line to apply and participate in the state programs that first year, and even as we've continued, has been an undertaking for sure but I'm so grateful we have the option.
I've shared our experience countless times with other families because so few know about the opportunity and where to get information. Private school is not the best fit or option for every student. Public and charter schools are not the best fit or option for every student. Choices are what the state of North Carolina has provided through supporting these programs and I'm committed to making sure other families have the opportunity of finding their peace of mind when it comes to their child's education.
See side-by-side comparison of the Opportunity Grant, Disability Grant and Educational Savings Account.
---
Christa Robaina is a wife and mom of three. She is the Charlotte chapter chair and a parent mentor for The Autism Community in Action who hosts monthly coffee talks for autism parents and caregivers. She coaches families with children with special needs that are exploring options for improving diet and home environments to better serve their overall wellness. If you have questions about her experience with the NC grant and scholarship programs, email her at upstreamessentials@gmail.com.
For support and to make more connections within the Charlotte area, consider joining this private Facebook group Special Friends Connection — Charlotte Area.