North Carolina By Train: A Guide for the Fall
Plus: The special seasonal events from each service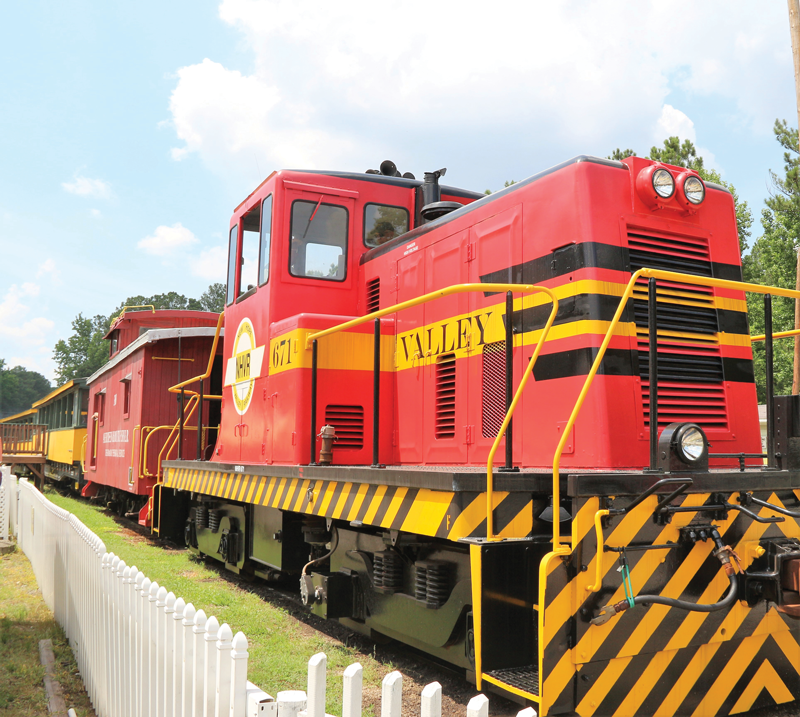 From Thomas the Tank Engine and The Little Engine That Could, to Platform 9¾ and "Murder on The Orient Express," trains captivate our imaginations. Journey and destination are so deeply interwoven within the massive steel body of a locomotive, that it has long been a favorite trope for storytellers, as well as a favorite toy for children.
In North Carolina, we can choose from an abundance of enchanting train options. Go with a functional, carefree way to travel via NC By Train, or delight in pure whimsy at Tweetsie Railroad. Here are some options for the train lover in all of us.
300 Tweetsie Railroad Lane, Blowing Rock
Tucked in the heart of the Blue Ridge Mountains, Tweetsie Railroad, located in Blowing Rock, is the oldest theme park in North Carolina. From its traditional Wild West theme to rotating special events, this park has something for everyone.
Locomotive No. 12, dubbed "Tweetsie," debuted July 4, 1957, as a family fun activity that gave passengers a 1-mile ride to a picnic site. Since then, the park has added Engine No. 190, the "Yukon Queen," and expanded the track to a 3-mile loop.
In addition to trains, Tweetsie Railroad consists of hundreds of acres filled with rides, shops, eateries, live entertainment and an animal park.
Through Oct. 27, Tweetsie is open on Friday through Sunday 9 a.m.-6 p.m. Admission is $50 for ages 13 and older, $32 for ages 3-12, and free for ages 2 and younger.
---
SPECIAL EVENTS
Ghost Train
Through Oct. 26, 7:30 p.m.-11:30 p.m.
Admission to the Ghost Train, which is separate from park admission, is $44 for adults, $38 for children ages 3-12 and free for ages 2 and younger. The Ghost Train ride takes 20 minutes. Admission includes a haunted house, Halloween shows, trick-or-treating and other "ghastly attractions."
Tweetsie Christmas
Starting Nov. 22, Tweetsie Railroad transforms from spooky to merry for its annual Tweetsie Christmas event. Thousands of Christmas lights twinkle during the nighttime train ride. Passengers sing Christmas carols, roast s'mores and get pictures with Santa.
1 Samuel Spencer Drive, Spencer
Billed as "the museum that moves you," the North Carolina Transportation Museum offers visitors 60 acres of historic artifacts and immersive exhibits.
Four historic buildings are filled with items and stories that will transport visitors to the time of the Southern Railway's Spencer Shops. The site was once home of the Southern Railway Company's largest steam locomotive servicing facility.
Over the years, exhibits have been added to encompass all forms of transportation history. Explore steam and diesel locomotives, railroad passenger cars, antique automobiles and aviation exhibits, including a full size Wright Flyer and a Piedmont Airlines DC-3.
The museum is open Tuesday through Saturday, 9 a.m.-5 p.m.; and Sunday, noon-5 p.m. Admission is $6 for ages 13 and older, $5 for seniors (ages not specified) and members of the military, and $4 for ages 3-12. Train rides are available Thursday through Sunday as an add-on to the admission price.
---
SPECIAL EVENTS
Day Out With Thomas
Sept. 27-29, Oct. 4-6
Tickets cost $16-32, depending on age, for specific time periods. You can purchase an all-day pass for $32 (for all ages).
Trick or Train
Oct. 26
Kids in costumes receive free admission and a train ride with a paying adult. Conductors will be handing out candy aboard the train and at stations throughout the museum. Additional activities include face painting, temporary tattoos, games, coloring, crafts, photo opportunities, costume contests for different age groups, bubbles, sidewalk chalk, hayrides trolley rides and more. Check the website for train ride times, the costume contest schedule and other details.
The Polar Express Train Ride
Nov. 15-17, Nov. 22-24, Nov. 29-Dec. 1, Dec. 6-8, Dec. 12-22
Weekends in November and December, all who believe have the opportunity to ride the Polar Express and hear Santa's magic sleigh bells. Hot chocolate and cookies are served on board. Passengers enjoy singing and dancing during the train ride, as well as a reading of "The Polar Express." Upon arrival at the North Pole, Santa presents the first gift of Christmas. All passengers receive a silver sleigh bell during the return trip. Tickets range from $32 for a single children's ticket in standard coach to $325 for a table for four in parlor class.
---
45 Mitchell St., Bryson City
If a classic train ride with breathtaking scenery is your goal, look no further than the Great Smoky Mountains Railroad. Based in Bryson City, this railroad line offers two daily train routes on both steam- and diesel-powered locomotives.
The Tuckasegee River Excursion is a four-hour trip to Dillsboro and passes by the famous movie set of "The Fugitive" (1993). The Nantahala Gorge Excursion is a four-and-a-half hour excursion that carries passengers to the beautiful Nantahala Gorge.
---
SPECIAL EVENTS
PEANUTS The Great Pumpkin Patch Express
Saturdays and Sundays throughout October
Enjoy a train ride themed on the classic PEANUTS story, "It's the Great Pumpkin, Charlie Brown!" at select times Fridays, Saturdays and Sundays throughout October. Don your costume and visit Snoopy, Charlie Brown and the PEANUTS gang in the mountains.
The half-hour ride to the pumpkin patch is accompanied by the narration of Charles Schulz' classic Halloween tale. Purchase tickets online or the day of your ride. Depending on which class of service you choose, prices range from complimentary to $10 for children under age 2; $32-$39 for ages 2-12; and $56-$68 for ages 13 and older.
THE POLAR EXPRESS Train Ride
Nov. 8 to Dec. 31 (with the exception of Thanksgiving and Christmas Day).
Experience Great Smoky Mountains Railroad's "The Polar Express" themed train ride. Once you arrive at the North Pole, Santa boards the train, greets each child and gives him or her a silver bell to keep the magic of Christmas alive. Passengers sing Christmas carols on the return trip.
Tickets quickly sell out. Purchase online in advance. Prices range from $17-$24 for children under age 2; $45-$67 for ages 2-12; and $65-$91 for ages 13 and older.
---
3900 Bonsal Road, New Hill
Located southwest of Raleigh, New Hope Valley Railway calls itself the Triangle's Train, and caters to true train lovers. Though the railway does not provide daily train rides, volunteers schedule and promote a number of special events during which visitors can go on an approximate one-hour long train ride along 8 miles of track.
It's also home to the North Carolina Railway Museum, which features antique train cars, memorabilia and a gift shop. In addition to the trains and museum, visitors can view railroad equipment from the 1920s and a model railroad, which features 1,000 feet of miniature track and several model trains, including Thomas the Tank Engine.
---
SPECIAL EVENTS
Track or Treat Halloween Express
Oct. 12, 19 and 26
Slow Down Sunday
Nov. 10
Santa's Reindeer
Roundup Express
Dec. 7, 8, 14, 15 and 21
Tickets range from $7-$14 depending on the event.
---
Stations located in cities across the state
The North Carolina Department of Transportation owns and operates the Piedmont and Carolinian Amtrak train lines, as well as 16 stations to serve families throughout the state.
A family of four can hop a train from Raleigh to Charlotte for the day for less than $120. Ticket prices cost $11.50-$27 one way for transportation within North Carolina; $103 for a one-way train from Raleigh to New York City; and $123 for a one-way train from Charlotte to New York City. In addition to offering train travel, NC By Train often partners with local busses and transit systems to make your entire journey hassle-free. Visit the website for deals and specials, and information on everyday and group travel discounts.
---
Trains have a special place in U.S. history. They transformed the way we communicate, manufacture and explore the world. And though we now have access to more modernized modes of transportation, there is still something magical about feeling the rolling rumble of rails underneath you as the countryside sails by.
Mandy Howard is a freelance writer and mother of three in Raleigh.