Nonstop Flight Destinations for Charlotte Families
Leave the car at home and hop on a nonstop flight from CLT for family travels farther afield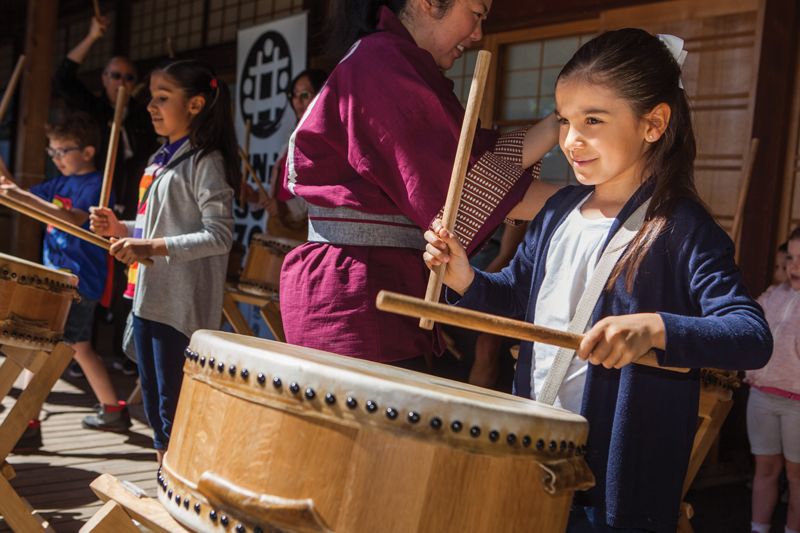 With a multitude of nonstop flights departing from Charlotte-Douglas International airport (and because who really wants to board planes more than once with kids in tow?), getting away to explore vacation destinations is easier than ever. Below are direct-flight destinations from CLT, including the Midwest, East Coast, West Coast and Europe, that offer a plethora of activities and excursions for family vacation. Use these itineraries as a starting point for planning the next great family getaway.
---
Flight time: 2.5 hours.
Saint Louis, known as the Gateway City to the West, is a vibrant city with loads of history. The Gateway Arch is a definite attraction, as well as the Gateway Arch National Park. Take a walk through the Museum at the Gateway Arch to learn more about the history of explorers, pioneers and rebels that crossed the Mississippi River in pursuit of new horizons. Admission is free. Helicopter rides and Mississippi River paddleboat excursions also offer a different perspective on the Arch.
A can't-miss destination is the City Museum. This four-story, indoor-outdoor venue is home to numerous exhibits, adventure halls and a range of tunnels, automobiles, ladders and slides that patrons can work their way through. City Museum is perhaps best known for its iconic, 10-story spiral slide that is worth a ride for adults and kids.
The Saint Louis Zoo, located in Forest Park on the west side of the city, is home to animals from all over the world and is known for its high-quality educational programming. While you may choose to pay for some attractions within the zoo, admission is free, a bonus to budget conscious travelers.
If you've got baseball fans in the family, but don't feel quite ready to take in a major league game, consider taking a short trip to the Gateway Grizzlies stadium. The Gateway Grizzlies, a feeder team for the Saint Louis Cardinals, is known for hosting family nights and special events that cater to their youngest fans.
For a unique meal, visit The Fountain on Locust, a soda-shop style restaurant that features a full menu and a host of ice cream flavors, as well as an impressive drink menu with grown-up versions of childhood favorites like its famous ice-cream martini. —JP
---
Flight time: Direct flights from CLT to any of the three NYC metro area airports take about two hours. LaGuardia is closest to the city if you are grabbing a cab or Lyft. From Newark Airport, you can take the NJ Transit Rail Service to Penn Station in NYC. It takes about 30 minutes and costs $13 for adults and is discounted for kids.
Someone once described New York City to me as a bunch of small villages rather than one great, big city. It's an apt assessment. You could have countless adventures here, depending on the neighborhoods and boroughs you decide to visit, but for first-time visitors, Manhattan is full of family-friendly options.
Choosing a hotel around Midtown allows easy access to many popular destinations. The Roger Smith (corner Lexington Avenue and 47th Street), a family-owned boutique hotel with an artsy vibe, is a great choice. It is within walking distance of Rockefeller Plaza and the Broadway theater district, as well as Grand Central Station that offers access to subway lines leading all over the city.
Central Park is an oasis in the city. Go there to wander or enjoy a picnic. It's home to 21 different playgrounds and the lovely Central Park Zoo. The High Line, a 1.45 mile long greenway built on the site of an old elevated freight train line, is another popular place for strolls and views of the west side of the city, stretching from just below 14th Street to 34th Street. Take a detour to Chelsea Market to pick up gourmet treats. With more than 35 food vendors, it's a fun place for the whole family to eat and explore.
The Empire State Building offers incredible views. It's touristy, iconic and unforgettable. For an extra fee, purchase express tickets in advance to skip lines. Or come first thing in the morning or mid-afternoon on weekdays to cut down on wait time.
Statue Cruises is the only authorized source for ferry tickets and a close up view of Statue of Liberty National Monument. If you want to visit the monument or the Ellis Island National Immigration Museum, make advance reservations to guarantee your place. Another option for magnificent views of the city, as well as Lady Liberty, is the nearby and totally free Staten Island Ferry. Trips leave approximately every half hour throughout the day. Avoid rush hour or you may feel packed in like a can of sardines.
Kids love the American Museum of Natural History that offers a scientific lens on the natural world and diverse cultures. It features many excellent permanent exhibitions, including its famed dinosaur fossil collections, and is also home to the Hayden Planetarium. The Metropolitan Museum of Art collections span more than 5,000 years, with everything from Ancient Egyptian artifacts to contemporary works, including many masterpieces. It has plenty of resources available to enrich your visit, including family guides and audio tours especially for kids (ages 6-12).
For an introductory experience to the performing arts at reasonable prices, check out The New Victory Theater on 42nd Street, a few steps from Times Square.
You can find any kind of world cuisine in New York so be adventurous. For a sweet treat, don't miss Dylan's Candy Bar (3rd Avenue at 60th Street) with three floors of sugary nirvana. —LB
---
Flight time: Just under six hours.
Portland is a mid-size city with a lot to see. Many families enjoy staying in northwest Portland due to its proximity to several attractions, including Washington Park and it's family-friendly vibe. Washington Park, one of the oldest parks in Portland, is home to the Hoyt Arboretum, Portland Japanese Garden, the Oregon Zoo, the Portland Children's Museum, The World Forestry Center and one of the state's best-known playgrounds. Families can easily spend a full day at the park and may want to return a second day.
Just a short hop from Washington Park is the flagship store of the well-known Portland chain Powell's City of Books. Powell's City of Books is the largest independent new and used bookstore in the world and is a book-lover's paradise.
If you're in Portland over the weekend, consider checking out the Portland Saturday Market. The street market is known for its range of independent sellers that carry everything from toys and clothing to jewelry and other fine handcrafts. After spending the morning at the Saturday Market, take a short ride to the Old Spaghetti Factory, a well-loved restaurant that's as delicious as it is family friendly. Not only can the pickiest eater enjoy a bowl of yummy pasta, there's also an indoor trolley car and friendly wait staff.
The Oregon Museum of Science and Industry is another family venture that features hands-on exhibits focused on everything from berries to satellites. While the museum is fantastically fun for kids, parents also can enjoy the interactive exhibits and special attractions.
There are many hikes that traverse the city or go on a short drive for hikes to some fantastic waterfalls, including Multnomah Falls. Multnomah Falls is the highest waterfall in Oregon at 620 feet, located on the Oregon side of the Columbia River Gorge, just 30 miles east of the city. —JP
---
Flight time: Eight hours and 20 minutes.
Admiring the sights of Paris while strolling its charming streets with a fresh baguette in hand is a bucket-list vacation for many. A family trip to Paris doesn't have to be filled with one stuffy museum after another. Walking the streets of Paris is the best way to soak up its ambiance, and the Promenade Les Berges de la Seine is the perfect place for a family stroll. This car-free path along the Seine River takes you from the Eiffel Tower to the Louvre. With climbing walls, hopscotch and other activities, the whole family can be entertained.
The Eiffel Tower, Paris's most famous landmark, should certainly be on your to-do list, but don't miss the wonderful playground and centuries-old, hand-cranked carousel in the Parc Champs de Mars, just a five-minute walk from the Eiffel Tower.
After shopping at Le Bon Marche, one of Paris's oldest department stores, be sure to visit the nearby Luxembourg Gardens. The gardens offer a beautiful, quiet oasis in the middle of Paris. Take a stroll, watch the kids float toy sailboats in the central pond, search for the replica of the Statue of Liberty, and spend time at its fantastic playground (small admission fee and totally worth it).
Live like a Parisian by renting an apartment in Paris's quiet 7th arrondissement which is home to Rue Cler, one of the best market streets in Paris. Here you'll find fresh baguettes and croissants, cheese shops conveniently located next to wine shops, creperie stands, pastries, and fresh fruit — all located on this quaint, pedestrian-only street. In the evenings, you are within walking distance of the Eiffel Tower to see its lights sparkle at the top of every hour. —AR, co-owner of Simply Awesome Trips
---
Flight time: Four hours.
Despite the island's small size, Aruba offers big entertainment for families. Because Aruba lies outside of the hurricane belt, it only receives about 18 inches of rain per year and holds a steady temperature, averaging 82 degrees fahrenheit with constant trade winds that keep beach-goers from feeling too hot. The winds have also shaped the native Divi-Divi trees. These unique leaning trees are a trademark of the island and can be seen on jewelry, T-shirts and hotel signs. The winds also power some of the islands most adventurous activities. Older kids and adults can try windsurfing or kiteboarding. Less strenuous watersports along the beach, include Jet Ski rentals and sea kayaking. Aruba's crystal clear waters also offer wonderful opportunities for snorkeling and diving. The Jolly Pirates offer daytime snorkeling cruises that explore the Antilla Wreck, often recognized as one the Caribbean's finest wreck dives. Also included are adult beverages, snorkel gear, music and beautiful views. Water explorers can also check out the Pedernales wreck, various other snorkel and dive charter sails, or the Atlantis Submarine.
Though Aruba has plenty of sandy spots to discover, one of the most popular for families is Palm Beach. Calm waters make it easy for little ones to splash and swim. Expect to see palm trees, hotels, water sports, piers, restaurants and shops. Visitors cannot miss the Palm Beach area, for it is home to the high-rise section of the island.
More remote areas to explore, include the desert island's craggy, limestone cliffs, caves, land bridges, rocky hills and natural pools. Rent a jeep or take an all-terrain vehicle excursion. All-terrain riders and hikers can explore Aruba's three highest points, Hooiberg, Seroe Jamanota and Arikok for wonderful views. Climb to the top of the California Lighthouse, named after the S.S. California, for a 360-degree view.
Not far from the lighthouse is Faro Blanco, an Italian restaurant with a few vegan and gluten-free options, all served with spectacular vistas. Arashi Beach, which offers parking, showers, beach huts and a nice area for snorkeling, also is nearby. —TW
---
Flight time: 8.5 hours.
One of the things that sets Barcelona apart is the unique architecture of Antoni Gaudí, found throughout the city. Park Güell, a UNESCO World Heritage Site, offers breathtaking views and a close up look at the strange and wonderful art of Gaudí. The spacious park includes colorful mosaics and buildings that look remarkably like giant gingerbread houses. Portions of the park are free but to enter the Monumental Core, the best known area of the park, you do need to purchase a timed entry ticket (get that in advance to guarantee your spot).
Another must-see Gaudí site is the Sagrada Familia, a massive earth-colored cathedral that appears to be "melting" even while it towers above the city streets It is still being constructed, some 136 years after Gaudí began the building. Art aficionados may also enjoy visiting the Picasso Museum, focused particularly on the early works of the Cubist master, who spent his formative years in Barcelona.
Soccer fans don't want to miss a tour of Camp Nou, the stadium where FC Barcelona, one of the world's best soccer teams and its star, Lionel Messi, play. For a nice stroll, La Rambla, Barcelona's best-known boulevard is tree-lined with an expansive pedestrians-only area. Here, you'll find street performers, shops and cafes. It's a popular destination for tourists, but unfortunately also for pickpockets, so be on your guard (which is generally sound advice for traveling in big cities.) While there, be sure to stop at the tantalizing covered market, La Boqueria, where you can find tons of fresh produce, cheese, meat, fish and other regional specialties. You can eat a meal here or purchase food from the various stands for a picnic to enjoy in nearby Parc de la Ciutadella. You can also rent a small row boat to take on the park's lake, or visit the zoo, which also is on the grounds.
Sun worshippers may want to make their way to the beach, the closest of which is about a 15 minute walk from La Rambla. You'll find plenty of cafes, restaurants and bars. You'll also be near L'Aquàrium de Barcelona, the world's largest Mediterranean themed aquarium.
While in Barcelona, be sure to sample tapas, those divine small plates featuring all sorts of local flavors, from cheese and ham to scrumptious mediterranean standbys like tomato, garlic and eggplant as well as fresh seafood. For a change of pace, visit the Harry Potter-themed Pudding Coffee Shop (Avinguda Diagonal, 515), for a snack or light meal. The cafe's three floors are decked out with loads of fun details to explore.
For a birds-eye view of the city, head up to Tibidabo, one of Europe's first amusement parks. Perched atop a mountain, it's old-fashioned fun the whole family can enjoy together. —LBR