Noelle Pikus Pace: Olympic Super Mom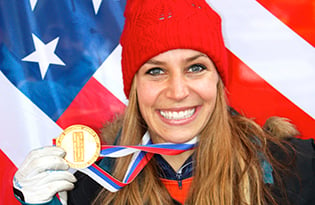 Skeleton bobsledding is one of the most dangerous winter Olympic sports. You can find the contestant riding a small sled down a frozen track while lying face down.
Noelle Pikus Pace, member of the U.S. Olympic Skeleton Team, mom of two and competing in this year's Sochi 2014 Olympic Winter Games takes "super mom" to the next level. For 11 years, Pace has used her strength and speed to become one of the best skeleton bobsledders in the world and plans to go for gold this year. We caught up with Noelle to ask her what life is like as a full-time Olympian and mom of two young children, ages 2 and 5.
How do you juggle being a full-time Olympian and supportive mom?
It takes a lot to be able to balance the two of them, so I have a strong support system. My husband takes a big load off of me. Time management is key. Having what you need when you need it is also a big thing for me. Being an athlete, we have a lot of tools- we have a lot of gear to help us be the best performers. It's the same as being a parent we need resources and Babies R Us has been a huge saver for me. I Just always make sure I take care of my family first and foremost.
What do you do to keep your kids engaged while you're working out?
If I'm not up too early, my kids love to warm up with me. The kids will do plyometrics on the sidewalk or stretch with me down in the basement. It's fun because it promotes healthy living as a whole. I'll hear my kids say, "I want to eat my veggies to be strong like you mommy," so its definitely a domino effect of healthy habits.
What advice do you have for moms with children who are aspiring Olympians or athletes?
Love your kids no matter what they choose and know that they aren't going to love what you love to do. Support them regardless of their dreams. The example that we set for our kids emulates in what their actions are. I just hope that Lacee (age 2) and Tracey (age 5) find what it is that they want to do and that they are passionate about something.
Read more:


Fun Facts: 2014 Winter Olympics