Night Rider
How one sleepless boy spends the wee hours of the morning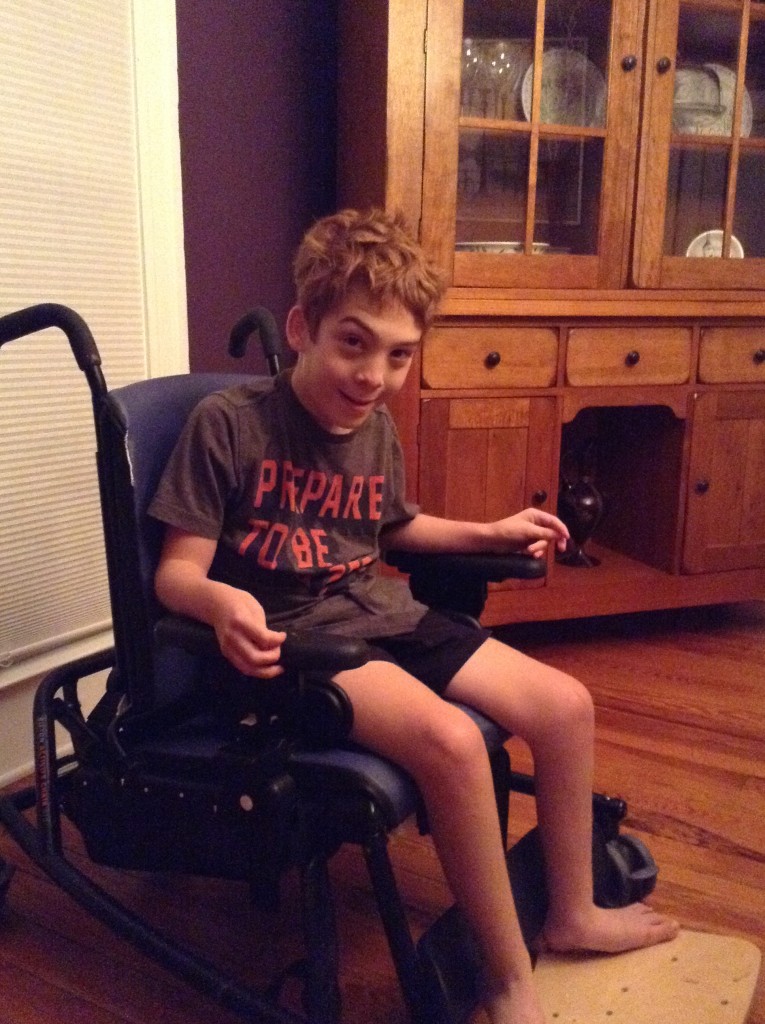 Last Thursday Night – written in real time
1:00am – Ben wakes up and crawls to the fridge. I hear him even though I am in a deep sleep. I try to convince myself that I am just hearing things.
1:15am – Ben is in the fridge, getting out the almond milk.
1:20am – Ben crawls to den and sits on couch with me. He pulls blanket over and I think he may lay down. Moment is gone and he is on the move.
1:30am – Ben crawls to the dining room and gets into his hi-lo chair. I make 1/2 PBJ sandwich, bring out yogurt and smoothie. No interest. I snap photos and decide on my blog topic for the week.
1:35am – I help him out of the chair. He insists on going to the couch in the library. I show him the photos I snapped of him. He is interested.
2:00am – Ben sits in the dark in our library. He moves from chair to couch.
2:07am – I am writing this post.
2:11am – Ben is at the fridge again making sounds. He drinks more almond milk.
2:21am – Ben is back at the den couch.
2:23am – Ben gets off couch and moves toward my bedroom door. We both hear my husband snoring from the bedroom. Ben hesitates in front of the door – the snoring may be a deterrent.
2:32am – Ben crawls back to his bedroom.
2:41am – No noise in Ben's room. I am wide awake.
We all know about the importance of sleep. Lack of it is linked to stress, weight and health issues and more importantly, crankiness in moms and dads. When Ben's nighttime activities last several days, I begin to panic. After a four night stint, I wander through the day in a haze. Sleep is paramount to me. I know some people can function on just a few hours, but I am not one of those people.
Here are a few things I have learned along the way when it comes to sleep:
Look for alternative reasons why your child may not be sleeping.
Many parents with a child with special needs have complaints about their child's sleeping habits. Some type of nighttime disruption is likely – difficulty falling asleep, staying asleep or ever going to sleep are common. Over the years, Ben's reasons for sleepless nights and even sleep challenges have changed.
Sometimes it is a change in medication. A small increase or decrease in medication can affect sleep.
Diet can sometimes play a part in sleep disruptions. ​
Always keep your child's doctor in the loop about sleep problems. If there are more serious issues to consider, you want them to know. In the past I have charted Ben's sleep schedule to look for patterns. We found that every 4-6 weeks, he wakes up in the middle of the night and does not go back to sleep. It usually lasts 3-4 nights. Sleep medication – OTC and prescription do not help. Typically we just ride the wave – the timeline above is from Day 2 of this wave.
Investigate natural methods.
There may be simple ways to help your child sleep better. Melatonin, lavender, change in sleep location or room temperature may offer relief to sleepless nights. There have been nights when Ben fell asleep on the couch, and we let him stay there for the night. Other times, he has crawled to our room and fell asleep immediately in our bed. He just wanted company.
Get support.
Make sure your doctor as well as your child's doctor knows about the difficult sleep patterns. If you have a spouse, friend or family member that can help once in awhile so you can get in a nap or an entire night of sleep, take advantage of their support. Continuous lack of sleep can lead to many health issues – be sure to take care of yourself.
Research sleep medications.
Several years ago when Ben's sleep patterns were so disruptive to our lives, we met with a neurologist who specialized in sleep. He prescribed a medicine that we could use regularly or when necessary. We used it for a number of years until it seemed to have little effect on Ben. Now we use melatonin and another sleep medication if needed. For Ben, when he wakes in the middle of the night (like tonight), sleep medications seem to have no effect on him. We have to ride it out.
After a month of uninterrupted sleep, I typically jinx myself by commenting on Ben's sleep. In fact, at his annual well visit last week, I reported to his pediatrician that he had been sleeping great. I even knocked on wood, but it must have been the faux type.
3:09am – Loud squawking from Ben's room. Long sigh from me.
Attention Required
Free Workshop: Mealtime Help for Picky Eaters
Does your child limit his food choices to just a few items?
Are you worried about nutrition and health?
Do family dinners end in frustration and tears?
Stephanie Gerlich MS CCC-SLP, speech therapist, and Courtney Stanley MS OTR/L, occupational therapist, will share some of the science behind picky eating and offer practical suggestions to improve intake and nutrition in children.
Thursday, November 5, 2015, 6:15-7:15 PM, Child & Family Development- Pineville office at 10516 Park Road, Charlotte, NC 28210
Space is limited so RSVP to reserve your spot here.
See more resources for families with children with special needs in the Special Needs Directory.