Nifty Nonfiction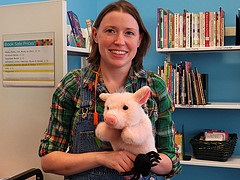 Nonfiction books have been enjoying the spotlight recently as schools increase their focus on fact-based texts. As a result, there are more great nonfiction options for book lovers of all ages. This week, we look at two nonfiction books for preschoolers and two nonfiction books your elementary school reader will love.
In Let's Make Faces, Hanoch Piven creates art from everyday objects.  Reading this book is a fun game of identifying the facial expressions and the objects composing the faces.  Preschoolers are sure to enjoy finding toys and tools in the faces.  Best of all, the book invites readers to make their own faces!
Cold, Crunchy, and Colorful: Using Our Senses is a sensory delight.  Little ones will romp through page after page of photographs so vivid and vibrant they will practically be able to feel the prick of the cactus needle and taste the tang of the lemon.  This entry in Jane Brocket's Clever Concepts series appeals to all the senses.
If your school-age reader is a budding astronomer, Space Atlas: A Voyage of Discovery for Young Astronauts by Jiri Dusek and Jan Pisala is sure to please.  The pages are chock full of blurbs on celestial topics as varied as moons of the planets and laundry at the international space station.  Small books-within-the-book and poster-sized foldouts offer hands-on exploration.
Do you know someone who loves looking at maps, models, and miniatures?  If: A Mind-Bending New Way of Looking at Big Ideas and Numbers by David J. Smith will wow you and your school-age reader. This look at scale uses tools like timelines, calendars, and measuring tapes to demonstrate the relationships of objects and events.  Detailed illustrations place trivia about natural history, world history, the universe, and current events into perspective.  This is one book that is sure to make you think!
Explore these great books and so much more nonfiction today at your nearest Charlotte Mecklenburg Library location.