New Goodwill Computer Store Makes Technology More Accessible for Students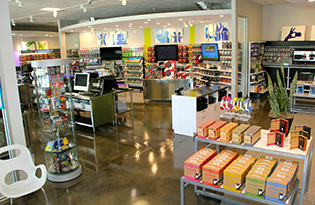 Demand for technology is driving new product development but much of it is out of reach for the average student and his family. To that end, a new store called The Grid … Powered by Goodwill has opened on North Tryon Street that offers brand new, as well as donated and refurbished products.
The Grid replaces Goodwill's Computer Works location, and houses products, such as desktop and laptop computers, printers, and flat screen televisions. In addition, the new store adds Bluetooth speakers, retro games and gaming systems, stereo and audio components, phone and tablet accessories and chargers, becoming a destination spot where the tech-savvy consumer can purchase the latest computer components and accessories at affordable prices.
"Whether customers choose to tinker with a Raspberry Pi, upgrade their television or try the Oculus Rift experience, The Grid has it all," says Barbara Maida-Stolle, executive vice president of business enterprises at Goodwill Industries.
ShareBrands product line, featuring stereo headphones and earbuds, is noteworthy, adds Maida-Stolle. For every product purchased, ShareBrands gives 25 percent of the sale to a partner cause. "It's just another way we are giving back. See what a little good will do?"
Upcoming store events include product demos, such as Pac-Man and the original Mario Brothers, a virtual reality experience with the mind-bending Oculus Rift complete with sci-fi goggles and development of a kids club and hands-on computer lab.
"We are so excited about the unique format and design of the store," says Jeffery Bise, Goodwill district manager. "We are able to transform the sales floor into a lab and bring in the community to learn about computer science and technology in a comfortable and fun atmosphere."