New Cowfish Burger Benefits Local Charity
In April, Cowfish will donate $5 from every sale of the Motor Keeps Going burger to A Child's Place.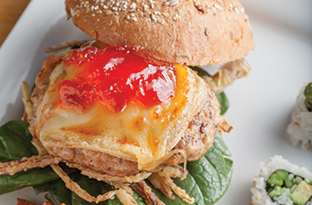 You love sushi, the kids love burgers. Or maybe you have a hankering for a burger with a side of sushi and fries. Either way, Cowfish Sushi Burger Bar has you covered. Cowfish Executive Chef David Lucarelli and Master Sushi Chef Rifali Almunir recently worked with Charlotte Hornet's player Michael Kidd-Gilchrist to develop the Motor Keeps Going (MKG), a half-pound turkey burger on a sesame bun, made with raclette, spinach and fried leeks with hot pepper jelly.
The MKG sells for $20 and is served with a half a vegetarian sushi roll and sweet potato fries. Through the end of April, Cowfish is donating $5 from every sale of the MKG to A Child's Place, a local charity that Kidd-Gilchrist supports, that helps serve homeless children and families. Cowfish is located at 4310 Sharon Road, Charlotte.