Neat Eats: Wushu Chicken Tacos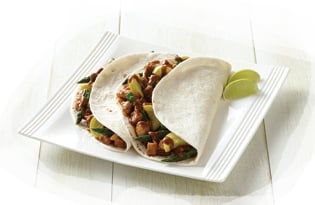 Peanut butter isn't just for jelly! Last year, Margalit Mermelstein, 8, of Raleigh, created Wushu Chicken Tacos, which pairs Jif Creamy Peanut Butter with chicken, asparagus and squash, wrapped in a tortilla.
Once again, the Jif® Most Creative Peanut Butter Sandwich Contest invites kids ages 6-12 to get creative in the kitchen for a chance to win a $25,000 college fund. And parents can enter the essay contest to be eligible for prizes. Sandwiches are judged on creativity, taste, nutritional balance, appearance and ease of preparation. Lots of prizes to win, and four runners-up each will receive a $2,500 college fund. Visit www.jif.com to enter before Oct. 12.
Wushu Chicken Tacos
Recipe by Maraglit Mermelstein, age 8, Raleigh, NC
Serves: 1 (multiply for each additional diner)
Ingredients:
1/2 cup diced rotisserie chicken
1/4 cup asparagus pieces, about 1-inch long
1/4 cup yellow squash pieces
2 fajita-size flour tortillas (6-inch)
2 lime wedges, optional
Sauce:
1/8-inch thick slice fresh ginger, peeled and cut in half
2 cloves garlic, peeled
2 tablespoons Jif® Creamy Peanut Butter
1 tablespoon soy sauce
3/8 teaspoons chili paste with garlic
2 1/2 teaspoons sugar
2 1/2 teaspoons Worcestershire sauce
2 1/4 teaspoons sesame oil
3 1/2 teaspoons water
Directions:
Chop ginger and garlic in a small food processor as finely as possible.  Add next seven ingredients and process until sauce is completely smooth.  If sauce is too thick, add more water.  If sauce is too thin, add more peanut butter.  Toss about half the sauce with the chicken and put aside in a covered bowl.  Boil about 1 inch of water in a large skillet and add asparagus.  Cover skillet and turn off heat.  In 1-3 minutes, lift off cover and remove asparagus using tongs.  Cut off ends of squash and cut squash into half-moon pieces.  Put ¼ cup squash pieces into a microwave-safe bowl and add a little water.  Cover with plastic wrap and microwave about 2-3 minutes.  Let cool slightly and carefully drain off water. Place tortillas in microwave and cook about 15 seconds, or until tortillas are warm and bend easily.  Put chicken in tortillas, top with asparagus and squash and drizzle with additional peanut butter sauce.  Serve with optional lime wedges.
?