Neat Eats: Vegetable Garden "Dirt" Cups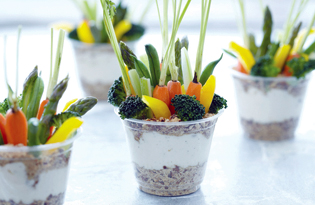 It often can be a struggle to get children to eat their veggies, especially the recommended 2-5 cups a day. Nutrition and education experts say summer is the prime time for children to develop poor eating habits due to the break from structured meal schedules and physical activity after school. Make eating vegetables fun with this fun recipe. Use light Ranch, instead of regular, between the pretzel soil and let kids top it off their cup with an assortment of celery sticks, carrots, broccoli, or any vegetable of their choice for dipping. (Courtesy of FamilyFeatures.com)

Vegetable Garden "Dirt" Cups
Prep time: 10 minutes
Serves 8-10
Ingredients:
2-4 cups pumpernickel pretzel or dark corn chip crumbs
2 cups Hidden Valley Original Ranch Light Dressing
A variety of vegetables for dipping; mini carrots with tops, pea pods, mini sunburst squash, celery sticks, green beans or whatever your child likes to dip.
Directions:
1. Crush the pumpernickel pretzels or dark corn chips until mixture resembles dirt.
2. Pour a layer of dirt crumbs into the bottom of a clear container (or for single servings pour into paper cups).
3. Pour dressing over crumbs then add a thicker layer of dirt crumbs on top.
4. Place vegetables into dirt cup or serve them on the side to dip.