Neat Eats: Sweet 'n' Crunchy Blondie Bars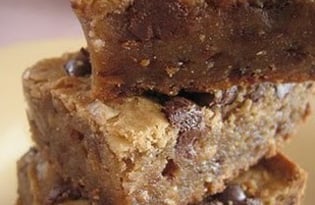 Looking for a Valentine's Day treat that will satisfy that sweet craving but won't tip the scale? With more and more adults and children suffering from type 1 and type 2 diabetes, Sans Sucre baking mixes offer the perfect alternative.
The new line of naturally sweetened, sugar-free and no-sugar-added baking mixes are flavored with Stevia and feature low fat, low sodium and no cholesterol. Four flavors include Milk Chocolate Brownie, Classic Blondie Brownie, Chocolate Fudge Brownie and Apple Cinnamon Coffee Cake. Try Sweet 'n' Crunchy Blondie Bars for a yummy dessert or after-school snack. (Recipe by Bernard Food Industries)
Sweet 'n' Crunchy Blondie Bars
Makes 12 bars
1/3 cup water
2 tablespoons vegetable oil
1 box Sans Sucre Classic Blondie Brownie mix
1 cup peanuts (chopped)
1 cup skinny pretzel sticks
1 tablespoon sugar-free chocolate
Chop skinny pretzel sticks and peanuts. Prepare brownie mix as directed. Sprinkle enough peanuts and pretzels over brownies to cover. Bake as directed on the brownie mix box. Cool completely. Drizzle melted sugar-free chocolate over brownies.