Neat Eats: Creamy Chicken, Vegetables and Noodles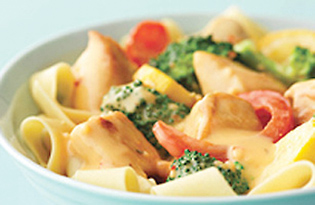 Here's a comfort-food recipe that's full of colorful veggies (and cheese!) that the entire family is sure to enjoy. It's like eating chicken noodle soup with a fork! Simple to make, this one-pot meal is perfect for a fall evening after a busy day, and it will stick with the kids as they rush out to go trick-or-treating and fill up with candy. (Courtesy of Kraft Recipes.)
Ingredients:
4 cups egg noodles, uncooked
1-1/2 lb.  boneless skinless chicken breasts, cut into 1-inch pieces
1/4 cup Kraft Light Zesty Italian Dressing
3-1/2 cups fresh broccoli florets
1 large red pepper, cut into strips
1 yellow squash, sliced
6 oz. Velveeta 2 percent milk, pasteurized prepared cheese product, cut into 1/2-inch cubes
1 tbsp. fat-free milk
Instructions:
Cook pasta as directed on package, omitting salt. Meanwhile, cook chicken in dressing in large nonstick skillet on medium-high heat 5 to 7 minutes or until chicken is done, stirring occasionally. Stir in vegetables; cover. Simmer on medium heat 5 minutes or until vegetables are crisp-tender. Microwave Velveeta and milk in small microwaveable bowl on high 2 to 3 minutes or until Velveeta is melted and mixture is well-blended, stirring after 1-1/2 minutes. Add to chicken mixture; mix lightly. Serve over pasta.
?
?