Neat Eats: Coconut Chicken Tenders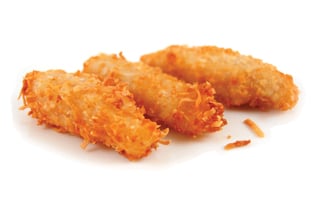 Make your own chicken tenders without much fuss. The coconut crust balances the seasoned bread crumbs and provides a satisfying crunch to the fun finger food. Sure to please all ages.
Coconut Chicken Tenders
INGREDIENTS:
1/2 cup all-purpose flour
1/2 cup shredded coconut
1/2 cup seasoned Panko breadcrumbs
1 large egg
1 cup low-fat (1 percent) milk
1 pound boneless skinless chicken breast, cut into 1-inch strips
2 tablespoons Canola oil
DIRECTIONS:
Place flour in 1-quart resealable plastic food storage bag. In a separate food storage bag, combine the coconut and breadcrumbs, seal bag and shake to mix well. In a medium shallow bowl, combine the egg and milk. Mix well. Working in batches, add the chicken to the flour bag and coat well, then dip each piece in the egg mixture and place in the bag with the coconut and breadcrumbs and shake to coat chicken.
Heat a 12-inch skillet over medium-high heat. Add 1 tablespoon of oil to pan and heat. Add chicken to pan and cook 5 minutes, flip and cook for 2 to 3 minutes on the other side. Repeat with remaining oil and chicken.
Per serving: 401 calories; 31 grams carbohydrate; 2 grams fiber; 15 grams fat; 6 grams saturated fat; 34 grams protein; 412 milligrams sodium; 121 milligrams cholesterol; 120 milligrams calcium.
Recipe excerpted from "My Plate for Moms, How to Feed Yourself and Your Family Better" by Elizabeth M. Ward, M.S., R.D.