Near and Far: N.C. Transportation Museum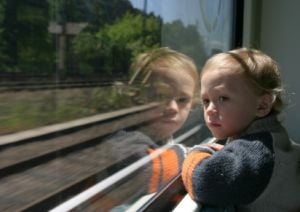 If you love the excitement of the Smithsonian but your kids can't stand long drives, believe it or not we have our own miniature version right here in North Carolina. It's not quite the grand scale of the hallowed institution in Washington, D.C., but when my daughter Caroline, my brother Locke and I visited the North Carolina Transportation Museum in Spencer, I had flashbacks of my visit to the National Air and Space Museum.
These massive buildings that were once used to repair Southern Railway's steam locomotives now house artifacts documenting the evolution of transportation, from a covered wagon to an amphibious airplane.
Trains and More
I had always assumed a trip to Spencer was a treat for any train lover, but there turned out to be much more. We started our visit at the restored passenger house, right off the visitor's parking lot. It is not an original building to this site, but it fits right in the surroundings. Brought to the museum in 1980 from the nearby town of Barber, this building serves as a visitor's center as well as the arrival platform for the train that takes visitors on a tour of the complex.
Rather than hopping aboard, we decided to walk to the Roundhouse, the building that houses the restored locomotives and train cars. While it's quite a hike to walk the entire complex, it's worth it because we were able to stop at the various outdoor exhibits and learn about their significance. Along the path is a Food Lion truck, which not only serves as an example of the way goods are transported over the highways but is also a symbol of the other business that helped build Salisbury, Spencer's neighboring city.
Before reaching the roundhouse we toured the Master Mechanic's Office and Flue Shop. Now home to the "Wagons, Wheels and Wings" and "Bumper to Bumper" exhibits, these cavernous buildings house exhibits that chronicle the history of transportation in the United States, with a decidedly local flair. North Carolina has played a large role in different aspects of transportation history, from dugout canoes designed by Native Americans to hosting the first flight of the Wright brothers.
A Living Exhibit
The Roundhouse turned out to be an exciting finale to our walk. In this crescent-shaped building are dozens of restored locomotives, cabooses and train cars of all varieties. If you're traveling with a kid who idolizes Thomas the Tank Engine, walking through here is like a dream come true. Rather than being behind ropes like many museum exhibits, these train cars are out where you can touch, climb on and explore them, to really get a feel for what these mechanical wonders are like up close.
Outside the roundhouse is the turntable, where cars are linked to the rest of the train. If you happen to be at the museum when the last train of the day comes in, you will get a chance to watch this feat of engineering in action. You can also take a narrated ride on the turntable for just $1.
Outside the Museum Campus
Southern Railways chose Spencer Shops as a convenient place to repair its trains due to its location halfway between Atlanta, Ga., and Washington, D.C. A bustling town grew up around this new industry during the first half of the 20th century, and the city of Spencer remains its own entity, just a few miles from the bigger town of Salisbury. Within walking distance of the transportation museum is a nice collection of shops with various antique dealers, souvenir shops and restaurants. Stop in the Our Place Café for an old-fashioned fountain drink, a homemade milkshake or a true banana split. Their specialty is a Cheerwine milkshake, spotlighting another local favorite.
A trip to the North Carolina Transportation Museum is sure to be a hit with kids who have made trains an obsession. Thanks to Thomas and his friends, boys and girls are learning about this mode of transportation that was more popular in bygone days. But even if you aren't a Thomas fanatic, there is a lot to see and do at this museum, and you'll come away with a greater understanding of the role transportation plays in our state's history and the nation's economy.
North Carolina Transportation Museum
http://www.nctrans.org
411 South Salisbury Ave.
Spencer, NC 28159
(704) 636-2889
Located just a few minutes off I-85, about an hour from Charlotte or Winston-Salem. Take exit 79 and follow the signs.
From Nov. 1-April 31, the North Carolina Transportation Museum is open Tuesday-Saturday, 9 a.m.-5 p.m., and Sunday 1-5 p.m. Admission is free. Train rides are $6 for adults and $5 for kids ages 3-12. The train schedule for January and February is Saturdays, 11 a.m. and 1 p.m.
Karen Alley is web editor of Piedmont Parent magazine.