NBA All-Star Weekend Comes to Charlotte
Be on the lookout for NBA players and talent during NBA All-Star weekend.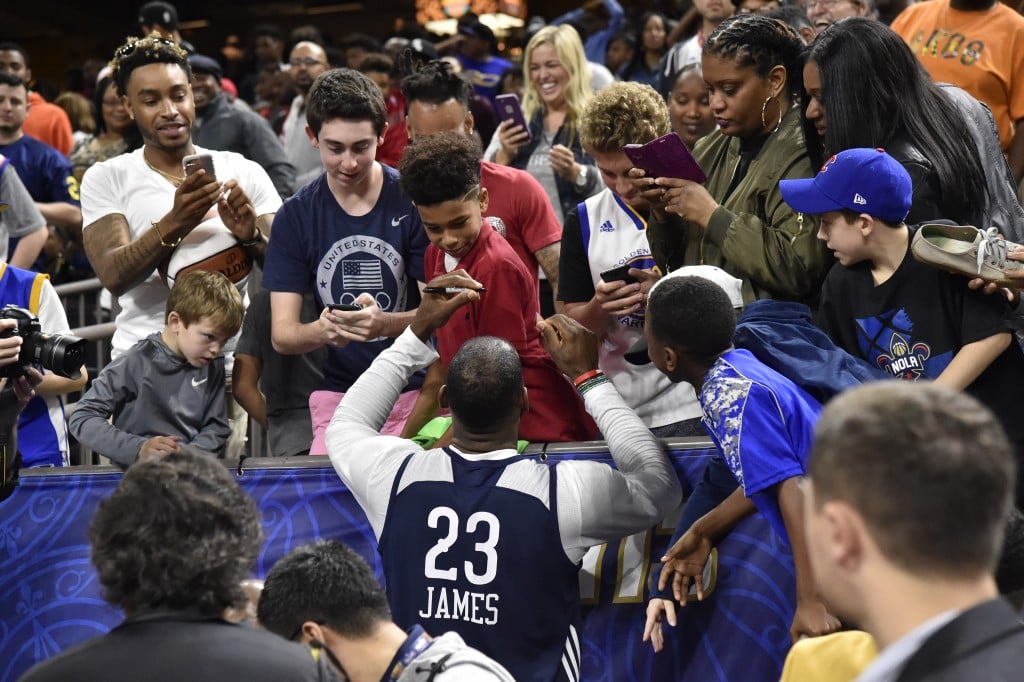 Uptown Charlotte is the ultimate NBA fan destination this weekend (Feb. 15-17) for the annual NBA All-Star Weekend. The Los Angeles Lakers' LeBron James and the Milwaukee Bucks' Giannis Antetokounmpo lead the list of 10 players – two guards and three front-court players from each conference – selected by fans, current NBA players and a media panel to start in the 2019 NBA All-Star Game. Tickets to the games are sold out, but the NBA All-Star Celebrity Game presented by Ruffles, airs live on ESPN, Friday at 7 p.m. The celebrity rosters include former Panther Steve Smith, recording-artist Chris Daughtry, Dr. Oz, ESPN college basketball analyst Jay Williams and rapper Quavo.
Fans that have tickets get the opportunity to see more than 20 of the NBA's biggest stars interviewed by media from around the world at the NBA All-Star Practice and Media Day at Bojangles' Coliseum, Saturday. There will be a live, in-arena show featuring interviews with NBA legends and celebrities, as well as autograph and photo opportunities, followed by the 2019 NBA All-Star Game practice for Sunday's noon showdown at Spectrum Center. The NBA All-Star Game tips off Sunday at 8 p.m. and airs live on TNT.
For those of us without tickets who want to experience the action, NBA All-Star at Epicentre is the place to go (though there is a capacity cap and registered guests get priority). The fan destination features opportunities to meet NBA players, virtual-reality demonstrations, interactive basketball activities, an NBA Store, and the NBA Crossover — a showcase of the convergence of NBA and pop culture through the art, fashion, music, technology and entertainment that surround today's game. It's free and open to the public from Friday, Feb. 15 through Sunday, Feb. 17, noon-7 p.m.
Community Bonus
In addition to the hoopla and excitement surrounding the games in Charlotte, the NBA All-Star game supports two local nonprofits. Team LeBron and Team Giannis selected Right Moves for Youth and the Second Harvest Food Bank of Metrolina as the Charlotte-based organizations they will play for during the NBA All-Star Game. The winning team will donate $350,000 and the losing team will donate $150,000 to its selected organizations.
Things to Know
More than 150,000 fans are expected to descend upon Charlotte for the weekend events, so if you're not seeking NBA everything, steer clear of the uptown area. Here are a few city impacts to know:
The uptown transit center is temporarily relocating to the surface lot across from the LYNX 7th Street parking deck.
All bags are prohibited from entering the Spectrum Center.
Heavy pedestrian traffic is expected in uptown, with road closures around Spectrum Center. It also is recommended to avoid Independence Boulevard and the Bojangles' Coliseum area on Friday afternoon, and parking around the AvidXchange Music Factory is limited.
Parking will be impacted in uptown. Many garages and on-street spaces will be full or unavailable, and valet parking will be disbanded.
The LYNX Blue Line will operate during the weekend with additional security measures. Bags and bulky items will not be allowed on board or on station platforms beginning at 5 p.m. on Friday through Sunday.
Pickup and drop-off for ride-share services will be limited, and e-scooters and bicycles will not be allowed in areas around Spectrum Center.