Navigating Education Options for Children with Special Needs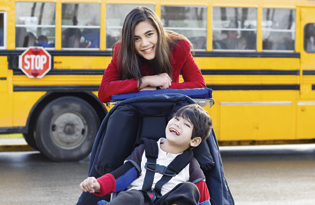 Parents of children with special needs often wonder what will happen when their children reach school age. Will they be ready for the academic and social demands? Will they be in a class with other students the same age and grade, or will they need, or desire, a smaller class with more professional support?
Take a breath, parents. You aren't expected to know all the answers, and the truth is, there isn't a one-size-fits-all solution. The best thing you can do is educate yourself and get involved.
Not all school systems are equal in resources or ideology, so what works in one county may not in the next. It's important to find an advocate to help you through the process and make sure your voice is heard at your child's individualized education plan meeting. The local chapter of The Arc, the Exceptional Children's Assistance Center or a disability-specific agency can help you identify an advocate.
The ideal goal for any child with special needs is full inclusion with his or her typical peers in school, but that's not always the best arrangement. With full inclusion, a child with special needs has a regular teacher and learns all the things that the other children are learning. Specially designed instruction is taught by an exceptional child teacher in the regular classroom. That teacher may serve as a co-teacher so that all students benefit. There is no obvious separation of the child with special needs and no lost instructional time. Therapists, if needed, work alongside the teacher, helping to put strategies in place for meeting therapy goals.
Research indicates that inclusion works. Children learn from each other, and modeling is a powerful thing. The children without special needs will immeasurably benefit as well with character lessons such as tolerance, patience, kindness, understanding, compassion, integrity and leadership.
There are all sorts of variations of inclusion. For example, many children are in a regular classroom for the majority of the day and get pulled out by a special education teacher for the core areas that require one-on-one time to master.
When Jessica Chamness' son Jacob, who has global developmental delays, was moved from a self-contained classroom in preschool to a blended classroom with typical children last year, it made a huge difference. "He has changed so much and really come out of his shell. He is learning as much from the children as he is from his teachers."
Likewise, Stacey Cunningham says her daughter Gigi, who has Down syndrome, benefits from a similar arrangement, but it requires work. "We have found that it is most important for teachers to receive training and have planning time to make an inclusive setting work," she says.
Some students have intense academic needs, social issues, behavioral challenges, medical diagnoses or safety concerns that make inclusion challenging at best, and with classroom teachers already overtaxed, many are not trained or equipped to handle such challenges. A resource classroom might be best, where there's a smaller teacher-to-student ratio and students work with highly qualified special education teachers on very specific goals.
In cases where students have even more needs, they develop their own community within a special education class for most, if not all, of the day, where teachers have more time and ability to create enriching experiences for them, such as independent living and social or life skills.
The self-contained setting worked best for Ruth Singer-Strunck's two children who have autism. "The truth is, inclusion and separate programs belong together," she says. "Hannah has needed the exclusive classroom situation … but also has been able to learn socialization skills, which is vital for people with autism."
Lisa Satterfield saw a big improvement when her second-grade daughter, Jordan, who has speech issues and a coordination disorder, was moved from a typical classroom to a self-contained setting. "She has made so much progress in a short period of time, it was the best decision we could have made for her."
A parent's biggest fear, academically speaking, is having his or her child fall through the cracks in any scenario. There aren't specially designed programs for every categorized developmental disability, and it's necessary for educators and parents to make a team decision on how a child can best be served and to make adjustments along the way. It's a good idea to have an unbiased party involved in meetings and decisions about your child's education needs. Be positive, direct, concise and clear, and don't forget that your opinion matters.