NASCAR Dads: Jamie McMurray's No. 1 Team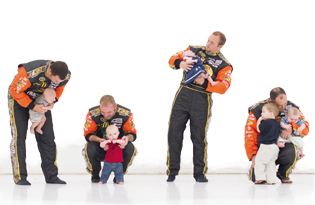 Racing to fatherhood
Jamie McMurray and the No. 1 NASCAR Team are enjoying a baby boom. Nine members, seven pregnancies and five babies born in the last eight months, with the sixth baby due in November. These days they're not only changing tires … they're changing diapers.
The baby race is on at Earnhardt Ganassi Racing with Felix Sabates, and ironically, the No. 1 Team's driver, Jamie McMurray, is running last. But McMurray doesn't mind when it comes to his team.
"Everything we do is competitive, but I can honestly say that I'm just happy to see all of them moving to the next stage of their lives. I'm excited to be able to share those experiences with them, and hear their thoughts before our baby comes," says McMurray.
He and his wife, Christy, who live in Mooresville, are expecting their first child in December.
The Baby Race
The pit crew for the No. 1 Bass Pro Shops / Tracker Boats Chevrolet is seven hard-working, physical guys crazy enough to come flying over the pit wall to change four tires and refuel a race car in less than 13 seconds. These ex-athletes – former baseball, football and track stars – form a tough, tight-knit team, who travel more than 56,000 miles a season.
When the baby race began in the Concord-based Earnhardt Ganassi Racing garage, road crew veteran Eric "PeeWee" Hoyle, was in the pole position. As the most experienced crew member and dad, it made sense that he would emerge as the go-to guy for advice.
Hoyle, who has spent more than 16 years on the road, and has a 2-year-old at home, offers his fatherly wisdom, "Take advantage of the time you have with them and don't let it pass you by."
The hardest thing about the job for the guys these days is the time away, and the possibility of missing those precious moments when the baby rolls over, shares a toothless grin or takes steps for the first time.
"There are a lot of firsts for us now," explains Doug Riepe, front tire carrier. "You want to be there, and it's the coolest thing in the world to experience that, but there are times when you do have to make sacrifices. So, you just make the most of it."
Weekend Warrior Wives
With young babies at home, the moms don't travel to the races. Instead, weekends are spent patiently waiting for "Daddy" to change tires, gas the car, beat the clock, finish the race, get on a plane and get home. Even when they return, most of the dads have other jobs, or responsibilities back at the garage. It can be a challenge when your husband is a weekend warrior.
"It is definitely easier with the second child because I know what I'm doing, but it's still hard," says Amy Hoyle. "There have been a lot of weekends where things were just hectic and I was in tears, but we still manage." Like many of the wives, she finds support from family and friends. When races are close and the team is running near the front, this group of NASCAR wives often connects on the phone to share their excitement.
In addition to the time away, the dangers of Pit Road are real, but track safety doesn't keep these moms awake at night. Rather it's the early morning hours on the road, late nights returning and thousands of miles in the air that  concern them.
Staying Connected
Sunday is not a day of rest in the NASCAR Sprint Cup Series – it's a day of racing. For road crew members like Hoyle, the working weekends begin on Thursday. For the rest of the pit crew it's a 3 a.m. wake-up call, leaving family in the pre-dawn hours of Sunday to fly out, and returning after dark on Sunday night.
Staying connected can be a challenge. So how do they do it?
"Lots of texting and phone calls," says Chris Taylor, rear tire changer, about how he keeps in touch. "Of course, Logan doesn't know that I'm gone. We tell him Daddy will be home tomorrow, and sometimes Jenn will point me out on TV."
A New Perspective
The new parenting perspective has changed the tough-guy image a little around the garage. Adam Mosher, rear tire carrier and the team's coach, typically runs the guys through a demanding weekly training schedule including kickboxing, cardio, yoga and swimming to keep them in top shape for the races. In the past, he admits being hard on Hoyle when he was tired because the baby was up all night or asked off early for a pediatrician appointment. Not since he became a dad, too.
Mosher says things are different now. When one of the guys asks off early or says he was up all night, he is more understanding. Chances are, he's tired, too.
On the road, typical banter about ball games and beer, switched to babies and bassinettes. "I knew things had changed when we were on the plane and one of the guys pulled out a baby furniture catalog," says Cory DeMarco, front tire changer, whose wife Erin, is expecting in November.
Becoming a dad is life changing, on and off the track, but the competitive nature of racing and the drive that keeps guys in the race and in the pit, will never fade. McMurray, who returned to drive for Earnhardt Ganassi Racing after several years with another team, has enjoyed getting to know the many new faces on his team, and sharing the excitement of fatherhood this year with the new dads on the pit crew. "It has just been really cool. As for being tough … you'd be surprised how quickly that gruff exterior (or fire suit) can go away when it comes to talking about their children."
The Checkered Flag
For the entire No.1 Team, it has been an incredible year. With exciting wins at the Daytona 500 and Brickyard 400, and babies in their arms or on the way, the
No. 1 Team is doing something right on the track and at home.
"This season has been amazing to say the least, and to cap this season off with the birth of our first child is really special,"  says McMurray. "One day we will get to share this year and our experiences with our kids. We'll all get to tell our kids that we did something that some of the sport's most accomplished drivers (and teams) never did in their careers."
The race to fatherhood is not won on a racetrack or celebrated with a trophy. It is won every day in the smiles of babies, the laughter of children and love of family at home.
TIPS FROM THE PIT: Advice for Road Warrior Dads
STICK TO A ROUTINE.
"Even though I'm gone 38 weekends a year, I've made Tuesdays and Thursdays  my days off – my weekends -and that's what my kids know."
– Eric "Pee Wee" Hoyle, Catch Can
APPRECIATE FAMILY TIME.
"Take advantage of the time when you are home. Be there with your family as much as you can when you are in town."
– Adam Mosher, Rear Tire Carrier
NEVER LOSE YOUR PHONE!
"It stinks to know that I may miss out on some pretty cool things, so being able to be connected through phone calls, photos, or texts in real time is key."
– Nick Case, Mechanic
BE UNDERSTANDING.
"My advice is to put yourself in their [wives] shoes. Be there for them. Empathize, and try not to moan and groan about it."
– Cory DeMarco, Front Tire Changer