NAPPA Top DVDs for 2009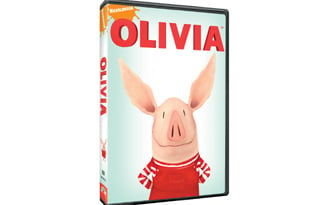 NAPPA Top Toys for 2009: DVDs
Among this year's winners, you'll find some familiar DVD titles along with some wonderful surprises. Despite the many titles we review each year, I've discovered a couple of new ones that will definitely be joining my personal collection.
For Infants & Toddlers
Olivia, Chorion/Nickelodeon, 2009; 99 min.; $16.99; www.nickshop.com; ages 1-5. Adorable Olivia, of the popular children's books, moves between fantasy and reality with contagious ease, imagining herself as a superhero, pop star or mommy. Perfect programming for toddlers, preschoolers and their mommies and grandmas.
"What a fun way to introduce kids to book-based videos. I would share this with my grandkids."
— Adult Tester and grandparent
For Infants & Toddlers – DVD Series
So Smart! Baby's First-Word Stories, Echo Bridge Home Entertainment, 2009; 30 min. each; $15.99 each; www.echobridgeentertainment.com; ages 1-3. Created by early childhood specialists, this video collection helps develop early language skills. Edward, Iggy, Dee Dee and Larry introduce simple words about your home, your closet, the outdoors, pets and more, and then build simple sentences and stories around the words.
"Absolutely one of the best educational series for toddlers."
— NAPPA Judge
"Love it! Love it! Love it! This is so perfect for developing language skills. So much better than any other toddler video on the market."
— Adult Tester and grandparent
For Preschoolers & Up
Classical Baby "I'm Grown Up Now": The Poetry Show, HBO, 2008; 30 min.; $9.97; http://store.hbo.com; ages 2-5. Brings classic poetry to life through animation, songs, live-action dancing and more. Readers, such as John Lithgow, Susan Sarandon and others highlight some of the world's greatest poems, from "The Owl and the Pussycat" to "The Wheelbarrow."
"I love this DVD! It reminded me of poetry I knew from my childhood, and now I can share the poems with my own children."
— Adult Tester
"I love this cuz it tells you what poetry's about after they say one of the poems. It had some real pictures and some animations. I like that."
— Child Tester, age 5
Lots to Learn: Head to Toe With Buster, Lots to Learn, LLC, 2008; 30 min.; $19.99; www.lotstolearn.com; ages 2-5. This child-interactive video is on target with key preschool concepts, such as learning about colors, tying your shoes and facial expressions. Kids love the games and songs. Parents appreciate the simple language and introduction of Spanish words.
"Brilliant! This DVD really talks to kids at their level. … It's interesting for adults and children alike."
— Adult Tester
The Jumpitz Celebrate Animals!, The Jumpitz, 2008; 60 min.; $12.99; www.jumpitz.com; ages 2-5. This DVD will get eyes popping and toes tapping with bright, clear images of live turtles and tortoises and fun, bouncy songs. Your kids will get to brainstorm ideas and questions about the animals, including how to throw them a surprise party.
"A great DVD to watch with your child. It quickly gets you singing along, and it makes you want to grab some books so you can explore the world with your child."
— Adult Tester
For Preschoolers & Up — Series
Scholastic Treasury of 25 Storybook Classics: Dinosaurs, Trucks, Monsters and More, New Video (distributors), 2009; 291 min.; $29.95; www.newkideo.com; ages 2-5. Storybooks come to life in this collection of classic tales. Get ready for bed with How Do Dinosaurs Say Goodnight? or take a play break with favorites like The Mouse and the Motorcycle and Mike Mulligan and His Steam Shovel.
"I love the stories that are funny, like a dinosaur that can't fit in a bed and they try to find good ways to make him sleep."
— Child Tester, age 5
For Ages 5 & Up
Let's Explore … the Rainforest, One Smart Cookie Productions, 2008; $18.95; www.onesmartcookieproductions.com; ages 4-12. User-friendly DVD lets you choose an aspect of the rain forest to learn about through photos and videos. Children will love the fun animals, and parents will appreciate the ecological information and visual appeal.
"The multi-level aspect of this video made it so much fun for my whole family to watch!"
— Adult Tester and mother
"The frogs were cool! I could have watched them a long, long time."
— Child Tester, age 5
The Riddle in a Bottle, Sisbro Studios, LLC, 2008; 30 min.; $19.95; www.sisbro.com; ages 5-8. Beautiful underwater photography will captivate kids as they delight in solving riddles about animals, currents, tides, weather, and how moving water connects them all.
"We laughed, we hummed along and, most importantly, we tried to figure out the riddle. A movie that made us think and discuss; it was fun!"
— Adult Tester and mother
For Ages 5 & Up — Series
How'd They Build That…? Series, Marvelous Media, LLC, 2009; 50 min. each; $8.99 each; www.marvelousmedia.net; ages 4-8. Take a tour into the factories where large machines are made. The excitement of watching a fire engine, school bus or garbage truck being built and then following it out into a work setting cannot be duplicated.
For Ages 8 & Up
An American Girl: Chrissa Stands Strong American Girl, 2009; 90 min; $19.98; www.americangirl.com; ages 8-12. When Chrissa (Sammi Hanratty) moves to a new school, a group of female bullies torment her in class, on the bus, online and at the swim club. Realistically captures bullying, providing a conversation starter for parents about a subject that begs attention.
"We loved seeing Sammi Hanratty and Adair Tishler in this film! We have seen kids bullied at school and liked how this teaches you how to deal with it."
— Child Testers, girls ages 9 and 10