NAPPA Parenting Gold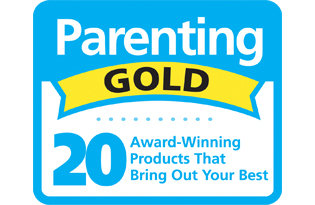 As parents, we all need help from time to time, whether we're trying to get a nutritious dinner on the table or rock the baby to sleep.
Thankfully, moms and dads can turn to the National Parenting Publications Awards (NAPPA) for Parenting Resources, which this year include 20 Gold Award-winning products, media, gear and resources hand-picked by a prestigious team of expert judges and parent testers. Part 1 includes the top picks for Big Kids and Tweens and Teens. Pick up our July issue for Part 2 to find the best in Infant, Toddlers and Preschool picks, plus a section just for parents.
The top picks showcased here and in July – plus the 30 Honors winners and six "Rising Stars" described online at NAPPAawards.com – provide solutions to some of our biggest parenting challenges, addressing everything from newborn needs to teen topics and new moms to nerdy dads.
For Big Kids
The Budding Gardener
By Mary B. Rein; Gryphon House, 2011; $9.95; www.gryphonhouse.com.
This little book (only 70 well-illustrated pages) is jam-packed with everything you need to introduce your child to gardening, whether your thumb is green or not. You can start small with a mini indoor greenhouse or terrarium, go wild with a butterfly garden or try to grow enough flowers to sell on the street corner instead of lemonade. The Budding Gardener is one of those rare books that appeals to children of a wide variety of ages – and their parents.
Special Needs Pick
MeMoves
ThinkingMoves; $59.95; www.thinkingmoves.com.
This innovative, multimedia product includes a DVD, a music CD, textured puzzle cards and a User's Guide, all designed to simultaneously engage a child's visual, auditory and motor planning skills and help calm the mind and improve mood and focus. The idea originated with a mom (product co-creator Roberta Scherf) seeking ways to help her child, who had been diagnosed with sensory integration disorder. MeMoves is accessible to people of all ages and abilities, and can be a valuable tool both at home or in the classroom. But it's particularly helpful for children with autism, ADD/ADHD and depression and anxiety disorders.
Classroom Pick
Success with Uppercase Letters: Grades K-1
Sylvan Learning/Random House; $12.99; www.sylvanlearningbookstore.com.
Kids get a leg up on their writing skills with this colorful and creative workbook, designed to help develop visual memory and, ultimately, handwriting that their teachers can read. Kids practice and learn through the Name Game, Write Around the Wheel, Sign Sightings and other fun letter and word play. The emphasis on just uppercase letters, one parent tester notes, is a good way to help a child focus and not get overwhelmed by too many lessons. "As an educator, I liked the fun, innovative way the workbook presented itself," says NAPPA education judge Michelle Davis Seyller. "The illustrations on each page made the child want to continue working with it."
For Tweens & Teens
Diet Drama: Feed Your Body! Move Your Body! Love Your Body!
By Nancy Redd; Gotham Books, 2010; $22.50; www.penguin.com.
This New York Times bestselling author brings a light touch to the serious topic of diets and body image for young women in this approachable food and exercise book. The result, says nutritionist and NAPPA judge Sheila Globus, is a book that's right on the money and "shows them that getting a handle on their health is doable, no matter who they are or what they weigh."
World Without Fish (Good for the Planet!)
By Mark Kurlansky, illustrated by Frank Stockton; Workman Publishing, 2011; $16.95; www.workman.com.
This book has been called the Silent Spring for a new generation, and that's not an exaggeration. Unlike most ecological books for young readers, it's neither preachy nor condescending, but uses straightforward, powerful writing to pull the reader into caring about the perilous state of our oceans and sea life. The nontraditional format, including sections in graphic-novel form, keeps this fact-filled book lively. And Kurlansky brings you right into the worlds he's writing about, whether under-sea with the fish or above with the fisherman.
TeenLife Media
TeenLife Media; Free; www.teenlife.com.
A unique, much-needed publication, affiliated with an info-packed website, Teen Life provides teenagers and their parents with resources for recreation, education and community service. The Guide to Gap Year Programs, for example, is an excellent blend of essays, listings and resources about the growing trend among young adults to participate in a service or adventure year after high school. The website section on summer jobs and internships, like all the writing in Teen Life, is geared to a teen audience without trying too hard to be hip.
There's More Online
Check out all of the 2011 NAPPA Parenting Resources Gold and Honors winners for more great gifts and sanity-saving resources! Head online to www.NAPPAawards.com.
Meet the Judges
NAPPA salutes the team of specialty judges, family testers and veteran parenting editors who, under lead judge Lawrence J. Cohen, Ph.D., named the winners of the 2011 NAPPA Parenting Resources competition. Cohen, a former NAPPA winner himself (for his bestselling book Playful Parenting), is a licensed psychologist, author and nationally recognized speaker who specializes in children's play and play therapy. This is his sixth year with NAPPA.
Fifteen specialty judges from leading institutions across North America joined NAPPA this year. Together with their teams of professionals, their collective expertise focused on pregnancy and lactation, pediatric and chiropractic health, dermatology, injury prevention, nutrition and fitness, child development, education and technology, and special needs.
Finally, dozens of family testers also played a key role in choosing this year's Gold and Honors winners. We thank all of our judges and testers!