Nan and Byron's: The Hot Spot for Family Food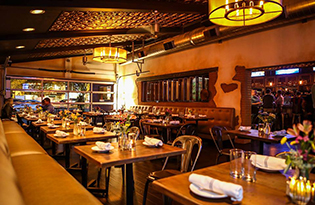 The latest hot spot for families is located in Charlotte's Southend neighborhood. It may sound a little strange, pairing the term "hot spot" with a family eatery, but that is exactly the goal of Nan and Byron's culinary team Jamie Lynch, executive chef (also at 5Church) and Marc Jacksina, chef de cuisine (formerly of Halcyon). These two are dishing up traditional American food in a contemporary way and it works.
The restaurant, named after people in the famous panting "American Gothic" occupies the space of the former oyster bar, Vinnie's. The interiors have been transformed with tin ceilings, rich woods and exposed brick creating a casual and comfortable space. There's nothing fussy here, which means parents won't be afraid to bring the kids, who are known to fling a little mac-n-cheese around, but will be pleased to find great service and a hint of upscale, not common at most family-focused restaurants.
The kids' menu features hotdogs, burgers and mac-n-cheese, but the adults have choices ranging from meatloaf with Sriracha sauce to spicy Peruvian chicken, and an array of sides. I sampled both dishes the first week and they were delicious. The menu also features a full list of craft cocktails, which a tired mom and dad can appreciate. I enthusiastically recommend the Nightshade Martini.
With the buzz on social media and central location, it looks like Nan and Byron's will be a go-to spot for families who need a break from the kitchen. Rest assured you'll eat well and so will your kids.
For more information, visit nanandbyrons.com.