My Love-Hate Relationship With Running
In this 5K, Jennifer Howe has two goals: to beat her time from last year's race and to not finish last.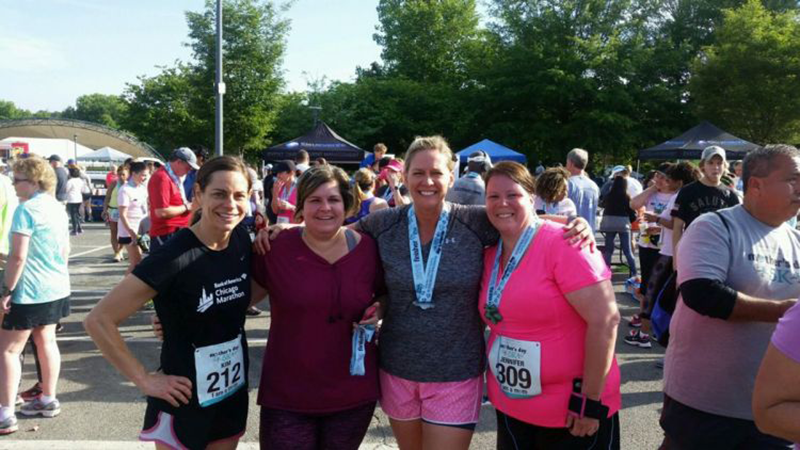 I have a love-hate relationship with running. I love to hate it. Running is not something I have ever been good at. I am very slow, I sweat a lot, and let's face it, I jiggle. There I said it. I jiggle and now I feel better. I still run though. I run for my kids and I run for my mother.
Two years ago my son asked me to run in his school's 5K Unity Run. I said no because I didn't think I could do it. I was too heavy and to out of shape. I regret that decision and promised myself then and there that I would complete a 5K for my children. Since that raw, damp March day in 2014, I have participated in six races. The first couple I walked most of the way, but always made sure to start off running and to finish running. In the last couple of races, I have been doing intervals, rotating between walking and running. It keeps my heart rate up helps my endurance.
I also run for my mother. She has been courageously living with early on-set Alzheimer's disease for eight years. She turns 66 today. The disease has not only robbed her of her mind, but it is physically slowing her down, taking away some of her mobility. She can't run, but I can run for her.
I have been doing 5Ks to show my kids that I can finish what I start. That you don't have to be the best. You have to start somewhere and you can never give up. The 5Ks are also helping me focus on my health so I can be there for my mom and for my kids. I am also determined to run a 5K with my family by the end of the Fit Family Challenge. Devan at Burn Boot Camp is going to help us prepare for it as a family.
So it seemed fitting to run in the 2nd Annual Hunstad-Kortesis Mother's Day 5K in Charlotte with three of my good friends – Erika, Kim and Lori. These ladies are three of the most supportive women I know. They are constantly encouraging me to work harder and to reach my health goals. They believe in me, even when I don't believe in myself. They are by my side every day at 5:30 a.m. at Burn Boot Camp. We laugh together, we sweat together and on occasion we have cursed together at an outrageous exercise at 5:45 a.m. in the morning. We did this same race together last year and decided to make it a Mother's Day tradition, and a good tradition it is.
It was a beautiful morning for a run. It wasn't too warm or too windy. I did intervals, setting the Interval Timer app for one minute of walking and one minute of running. This was an improvement from the last race, where I ran a minute and walked a minute and a half. For the first time in a long time, I wasn't intimidated by the start line. Let's face it, it would also become the finish line soon enough. I had two measurable goals: beat my time from last year's Mother's Day race and not finish last.
As the crowd of people in front of me ran through the start line I said a quick prayer and hit play on my iPhone to start my music. I will admit that my music playlist was a little odd. I listened to the full versions of the walk-up songs used by Tyler and his baseball teammates during games. As a song came on, I could picture each boy's determined face walking up to the plate. I thought to myself, if they can play three games in a day without giving up, I can run 3.2 miles. "Go Big or Go Home…" mile one, "Turn Down for What…" mile two, "I'm Good…" mile three.
I took my time running. From the very beginning I told my friends to go ahead. I didn't want to hold them back. I was competing against myself. When I hit mile three and the end was in sight, I saw Kim waiting for me. She had already finished, coming in third overall and first in her age bracket. But, she had come back for me. As we turned the corner, Erika and Lori were waiting. They had finished, but they came back for me too. All four of us crossed the finish line together. Girl power and friendship rolled into one! What they did means more to me then they will ever know.
As I put the medal around my neck, I realized that I had accomplished my two goals. I was not the last participant to cross the finish line and I had beat last years' time. I had actually beat last years' time by 12 minutes, coming in at 47:05. I did it!
It was a great way to start off Mother's Day. I ran for my mom, I ran for my kids and I ran for myself. Maybe I was a little harsh when I said I love to hate running. I don't know that I will ever love running, but I love what it does to my self-esteem and what it is doing for my health.
---
Jennifer Howe and her husband Todd, and children Tyler, 9 and daughter Molly, 6, are participating as one of our 2016 Fit Family Challenge spotlight families. Learn more about their healthy family journey here, and follow along with Jennifer as she updates us this Spring and Summer in the Fit Family Challenge Blog.