Must-Have Mom Apps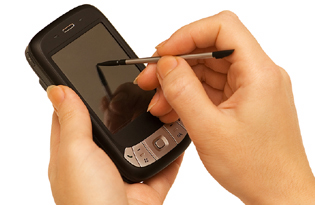 Ever wish you had checked the forecast before unloading the mini-van and four kids onto a beach with black clouds in the distance? Ever wish you had time to find a recipe for the three zucchinis you need to use before they rot in the fridge? Ever forgotten your preferred customer card and missed out on a discount at the drug store. Well now there's a solution for these inconveniences, and just about any others, that make up a day in the life of a mom – mobile apps.
There truly is an app for everything. Some are silly — turn your phone into a lightsaber (Storm Lightsaber, Free) or alter your voice to make an animated guinea pig talk (Smack Talk, $.99). But many offer solutions to help families tackle their daily tasks. In fact, there are thousands of apps designed especially for busy parents, working moms, soccer dads and families on the go that can help make life's daily challenges a little easier.

What is an app?
Apps are small applications that can be downloaded onto a mobile device. Available on iTunes and at mobile stores online, including Verizon and Sprint, apps range from useful programs, such as FlightTrack, which gives you real-time updates on flights around the world; to silly ones like iLighter, which turns your phone screen into a virtual lighter to wave during a ballad at your favorite rock concert; and educational ones, such as Lingo that teaches you a word every day.
Apps are easy on the family budget. Many are just $.99, with some costing as much as $9.99 or some costing nothing. The following is a list of must-have-mom apps to try that might make your job a bit more manageable and help you tackle the list of family tasks.

Red Laser
No need to ask the sale price of an item that is not clearly marked at the store. Simply wave your phone's screen over the barcode and you'll get an instant answer. Aside from the ability to scan an item's barcode for price, this app also can tell you if a food item contains gluten, soy, peanuts or lactose. It can help you locate any book at a nearby library or help you compare prices of an item with other local retailers.
Cost: Free

Potty Predictor
Working on potty training? By keeping track of your toddler's diet and liquid intake, this app offers several alarms to signal regular potty breaks, as well as a reward-based virtual sticker interface that helps kids keep track of potty success. Use it with multiple children when you're on the go or as a great reference at the doctor's office for kids struggling with digestion issues.
Cost: $3.99

Silent Bodyguard
This handy app can call for help in an emergency if you're confronted with a threatening situation or lost on the road. With the subtle touch of a button, the phone sends a message for help along with your GPS location through e-mail, text, your Facebook or Twitter feed without alerting an onlooker.
Cost: Free

Key Ring
Tired of all those preferred customer tags hanging from your key chain? This app uses scanner technology to recreate a copy of those barcodes and allows your phone screen to become the scanned image at over 650 retailers.
Cost: Free

Dinner Spinner
Not sure what to make for dinner? This app draws on thousands of recipes from All Recipes (allrecipes.com), along with their ratings. What makes this best for moms is the ability to search for recipes by meal, ingredients (I've got leftover chicken breasts and a can of tomatoes) or time (I've only got 15 minutes before we have to leave for soccer practice). The new upgrade – Dinner Spinner Pro – adds the convenience of adding your own photos, saving and sharing shopping lists, and changing the number of servings in a recipe.
Cost: Basic version, Free. Pro version, $2.99

The Weather Channel
Trying to decide whether kids should dig out the raincoats? This great app allows you to get weather updates and forecasts wherever you are – on the beach or at the park – and plan activities accordingly. The upgraded version allows you to share weather information with others via e-mail, and get severe weather alerts and beach conditions on the go.
Cost: Basic version, Free. Max version, $3.99.

Sprout
Get information on your developing pregnancy, learn important nutrition tips and keep track of your doctor's appointments with this handy app. Personalize it with your due date, name ideas and make a list of hospital essentials for your delivery date.
Cost: $9.99
Sharon Cindrich is the mother of two and author of several books including "A Smart Girl's Guide to the Internet." Her column Plugged In Parent appears in publications across the country. Get more tech-savvy parenting tips at www.pluggedinparent.com.